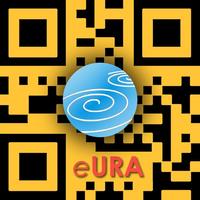 eURA
Free Get
eURA Description
eURA is used for reading QR-codes of incoming invoices from your partners and their loading & posting to Croatian ERP software Synesis.

Immediately after starting it, the apllication is ready for scanning QR codes. Point the device to the QR code you want to scan and after the image is focused, QR code data will be saved. If the image wll not focus automatically , try moving the device a liitle closer to, or further from the image, as to allow auto focus to work.
It's possible to scan several documents before transferring them to Synesis. The list of scanned documents can be seen by clicking the"Document list" button.

To transfer scanned documents to Synesis, you should open the Synesis program on your PC, open the document URA and click the button 'eURA'. A new window with QR code will be opened and you should also scan it with this application. After that the scanned invoices will be transfered to your Synesis ERP program and delete from your device.

Warning
Only the invoices with OIB (Croatian VAT number) matching the OIB entered in Synesis will be transferred.
eURA 1.2.0 Update
Podrška za 64 bitne uređaje
Direktna komunikacija sa Synesis programom, bez potrebe za web servisima
Support for 64 bit devices
Communication directly with Synesis desktop app, no need for web services
More