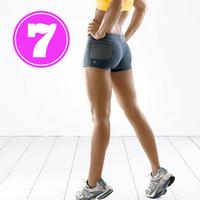 Fat Burning Video Workout Programs – Body Weight Exercises
Not Available
Removed
from the App Store
Screenshots for iPhone
More Screenshots for iPad
Fat Burning Video Workout Programs – Body Weight Exercises Description
Bodyweight Exercises are strength training exercises that do not require free weights; the practitioner's own weight provides the resistance for the movement. Movements such as the push-up and the sit-up are some of the most common bodyweight exercises.
In general, increasing the amount of repetitions will focus on improving endurance, while strength gains are made through increasing the intensity of the exercise through decreasing leverage and working at the ends of range of motion.

Because they do not require weights, bodyweight exercises are the ideal choice for individuals who are interested in fitness but do not have access to equipment. However, strength still may be gained through this method. Weights may still be incorporated to increase the difficulty of most bodyweight exercises. While some exercises do require some sort of equipment, the majority of bodyweight exercises require none. For those exercises that do require equipment of some kind, a substitute can usually be improvised (for example, using two branches of a tree to perform triceps dips). Some bodyweight exercises have been shown to benefit not just the young, but the elderly also.

Bodyweight exercises, compared to weight lifting, often require much more flexibility and balance in order to perform repetitions. Such exercises include handstand pushups, planche pushups, and bridges. Many bodyweight exercises can be progressed or regressed to meet the individual's need. This progression/regression strategy allows nearly all levels of fitness to participate. Bodyweight training can be used effectively to strengthen the core muscles with the addition of speed or unstable surfaces (such as a stability ball) as well as exercise variations that limit the motion (such as extra wide push-ups or wide pull-ups).