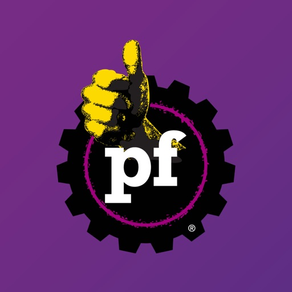 Planet Fitness Workouts
Workouts for everyone
Free
Offers In-App Purchases
9.7.6
for iPhone, Apple Watch and more
Planet Fitness Workouts Screenshots
About Planet Fitness Workouts
Welcome to the Planet Fitness App – The Gym In Your Pocket!


Bring the Judgement Free Zone® anywhere with the FREE PF App. Check out our exclusive features including digital check-in, trainer-led on-demand virtual workout classes, hundreds of exercises that you can do at home or in-club, equipment tutorials, activity tracking for in and out of the gym, a crowd meter so you can pick the best time to visit, and so much more!


Key Features:


Digital Keytag: Quick and easy touchless check-in at your Planet Fitness with your digital keytag.


Crowd Meter: Coming into one of our clubs? See how many people are at your club before you go to find the best time to visit! Just check out the Crowd Meter to view how busy your club is.


Digital Workout Videos: Access on-demand trainer-led workouts that will get you motivated and moving! Whether you're starting your fitness journey, or you just want to try something new, we'll help you make the most out of your in-club or at-home workouts. From beginner to advanced, there are workouts for everyone! PLUS, it's easier than ever to find workout programs you love. You can search workouts by type, time, target, and more to find what's best for you.


Member Perks: Check out exclusive discounts and deals from Planet Fitness partners. Start exploring now.


Exercise & Equipment Tutorials: View hundreds of easy-to-follow exercise routines and equipment tutorials. If it's your first time using a piece of equipment in one of our clubs or need a reminder, you can just scan the QR code in the app and your video guide will help you get started.


Activity Tracking with My Journey: Check out the My Journey screen to track check-ins, integrate with fitness trackers like Apple Health, and track just how much you're moving by logging it in the Activity Tracker.


Download the Planet Fitness App today - You got this!
What's New in the Latest Version 9.7.6
Last updated on Sep 25, 2023
Old Versions
-bug fixes and performance improvements
Version History
-bug fixes and performance improvements
-bug fixes and performance improvements
We've been working hard to update the app to help you meet your fitness goals. We've updated your profile to make tracking your progress even easier and added personalized workout recommendations to guide you as you work toward your goals.
-A new and enhanced mobile join experience
-Bug fixes and other enhancements
This update fixes a bug where members were unable to access their Club Pass on their Apple Watch.

-additional bug fixe and improvements
Whats New:
-Updates to My Journey to support High School Summer Pass registrants
-Bug fixes and performance improvements
What's new:
-Added club holiday hours
-Bug fixes and performance improvements


What's New:
-Bug fixes and performance improvements
What's new:
-minor bug fixes
What's new:
- fixed a connectivity issue and a couple other bugs
What's new:
- Improved Promo Code behavior
What's new:
- Fixed a connectivity Issue
- Squashed a few other bugs
Bug fixes and performance improvements
What's new:
- Squashed a few bugs.
What's new:
- This release will feature a fully updated look and feel, including an updated homescreen and navigation.
- We are also introducing an all-new My Journey screen for tracking check-ins, other activities, and celebrating milestones.
- It also features an entirely new prospect experience to allow new users to get to know Planet Fitness through our app.
What's new:
Fixed a few smaller bugs
What's New:
- updates from the IOS 16 release.
- a couple other bug fixes.
What's New:
- Fixed a couple of smaller bugs and took care of some maintenance items.
What's New:
Fixed a couple smaller bugs.
What's new:
- fixed a couple minor issues
Planet Fitness Workouts FAQ
Planet Fitness Workouts is available in regions other than the following restricted countries:
Brunei Darussalam,Gambia,Mauritius,Saudi Arabia,Slovakia,Swaziland,France,Gabon,Georgia,Japan,Lebanon,Paraguay,Turkmenistan,Vietnam,Mauritania,Afghanistan,Armenia,Bahamas,Congo,Cote Divoire,Jamaica,Myanmar,Nauru,Philippines,Seychelles,Belgium,Finland,Fiji,Sri Lanka,Liberia,Netherlands,Papua New Guinea,Chad,Azerbaijan,Congo, Democratic Republic,Australia,Chile,Kyrgyzstan,Macedonia,Nigeria,El Salvador,Cyprus,Cayman Islands,Senegal,Austria,Bhutan,Iceland,Jordan,Trinidad and Tobago,Uganda,Russia,Mexico,Albania,Costa Rica,Cape Verde,Latvia,Mali,Malawi,Namibia,Nicaragua,Singapore,Antigua And Barbuda,Anguilla,Bahrain,Cambodia,Luxembourg,Kosovo,Zimbabwe,Argentina,Guatemala,Qatar,Serbia,Sao Tome & Principe,Tonga,Bermuda,Spain,China,Malaysia,Vanuatu,Dominica,Ghana,Iraq,Montserrat,Hong Kong,Honduras,Ireland,Portugal,Turks and Caicos,Colombia,Croatia,St. Lucia,Venezuela,Solomon Islands,Burkina Faso,Greece,India,Kenya,Malta,Norway,Romania,Bulgaria,Botswana,Nepal,Oman,Sweden,Benin,United Kingdom,Mozambique,Angola,Brazil,Micronesia,Israel,Niger,Slovenia,St. Vincent & The Grenadines,Moldova,Tajikistan,Tanzania,Uzbekistan,Bolivia,Czech Republic,British Virgin Islands,Yemen,Barbados,Germany,Ecuador,Guyana,St. Kitts and Nevis,Turkey,Estonia,Libya,Maldives,Panama,Suriname,Denmark,Egypt,Kuwait,Mongolia,New Zealand,Sierra Leone,South Africa,Italy,Macao,Rwanda,Zambia,Madagascar,Bosnia & Herzegovina,Belize,Switzerland,Algeria,Indonesia,South Korea,Morocco,Thailand,United Arab Emirates,Guinea-bissau,Hungary,Montenegro,Cameroon,Grenada,Lao Peoples Democratic Republic,Peru,Taiwan,Dominican Republic,Pakistan,Palau,Tunisia,Uruguay
Planet Fitness Workouts supports English, Spanish
Planet Fitness Workouts contains in-app purchases. Please check the pricing plan as below:
PF+ Digtal Membership
$5.99
Check the following list to see the minimum requirements of Planet Fitness Workouts.
iPhone
Requires iOS 14.0 or later.
Apple Watch
Requires watchOS 7.0 or later.
iPod touch
Requires iOS 14.0 or later.
Planet Fitness Workouts Alternative