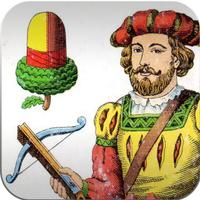 Fat Card
$1.99
Fat Card Description
---SINGLE PLAYER AND MULTIPLAYER---

FatCard (Sedma or Zsírozás or Şeptică or Hola or Ristikontra) is a Central European 4-card trick-and-draw game played by two players with a 32-card piquet deck.

Card suits do not play a role in this game, and there is no ranking order. A trick is won by the last player to play a card of the same rank as the card led.

Retina Display and Game Center support!!!
Fat Card 1.3 Update
- bug fix
- optimalization for iPhone 6
More