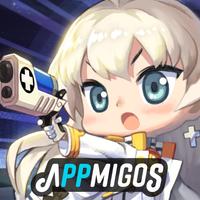 Fire Gun: Brick Breaker
Free Get
Screenshots for iPhone
More Screenshots for iPad
Fire Gun: Brick Breaker Description
Are you ready to break all these blocks apart?
Arm your character to the teeth and destroy even the littlest objects standing in your way!

Fire Gun is a mobile shooting brick breaker game -not like any other. In which by choosing characters with unique features and distinctive guns, you'll be able to tear apart any obstacle.
Equip your character with every type of gun imaginable. Even if you know nothing about guns, that's not a problem! There are many flashy and eye-catching models. Try them all to see which one fits your style!
Watch your reflexes, though! You might have to think fast while choosing which side to swipe to. You don't want to hit that block, do you?
Cover your character with a protective field to avoid crashing into anything which tries to stand in your way. Try your best to get all the power-ups which will add amazing features to your shots.
Collect as much points as you can and challenge yourself to see how far you can reach. Can you handle the speed?

Key Features:
- Lovable but powerful characters who will break everything in their way with a cute smile and a potent gun.

- Various weapons to decide on from. Each one with different peculiarities.

- Almighty power-ups which will amplify the power of your shot from two to four times and protect your characters.

- Accumulate as much points as you can to increase your shooting speed and power.

- Fast gameplay which will not allow you to take your eyes off your phone's screen.

- Delightful graphics displayed in a light-sized game, your phone specs will not be a problem.



◎ Visit our official Facebook page
▶ https://www.facebook.com/Appmigos/
Visit the page to discuss about WEBZEN Appmigos' various snack games and more!

CONTACT THE DEVELOPERS
FACEBOOK : https://www.facebook.com/appmigos
Fire Gun: Brick Breaker 2.0 Update
Fire Gun v2.0 Update
1) Dragon
- Dragons have been added to help the girls out with their firepower.
- Maximum of 3 dragons can be deployed to help you destroy the bricks.
2) Extra Stage
- The all new stage "Extra Stage" has been added.
- Players can gather 'Dragon Fruits' to upgrade the dragons.
- Gameplay is much faster in the "Extra Stage" compared to the regular stage.
3) Upgrading the Dragons
- Collect Dragon Fruits through login rewards and playing the Extra Stage.
- Use Dragon Fruits to upgrade the dragons.
- By upgrading the dragons, you can enjoy the thrill of extra firepower to destroy the bricks even faster!
More