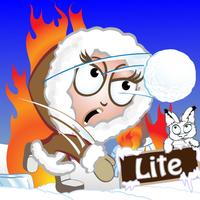 Flaming Igloo Lite
Free Get
Flaming Igloo Lite Description
Pit your wits and strategic skills against an evil ship bent on destroying your Igloo! Download Flaming Igloo today and discover a whole new spin on the tower / defense game genre where keeping yourself – and your igloo – together instead of battling your attackers is the key to winning!

Playing Flaming Igloo is simple yet deviously nuanced and challenging. You must race to repair your bombarded igloo by throwing snowballs onto burning portions of the structure and patching them up with blocks of ice.Good timing and figuring out an optimal approach towards repairs is key though.

Simply put, your resources are limited in Flaming Igloo.Using them effectively is crucial to turning the tides of this struggle in your favor rather than the ship's! Don't worry too much though; extra support is always on hand. A steadily growing group of friends and special magical power ups are made available to help you outsmart your floating enemy and keep your igloo intact too.

Flaming Igloo utilizes sequentially more difficult levels whichchargeyou with protectingyour icy igloo for longer and longer time intervals against progressively tougher and more powerful ships. Furthermore, as the game progresses you'll need to keep a keen eye on protecting and healing the two friendly animals supplying you with ice blocks and snowballs – Polly the Polar Bear and Wally the Walrus – who will be targeted by enemy ships out to destroy your igloo.

This is a full gaming package in every sense. Flaming Igloo includesthree skill levels– Beginner, Advanced, and Expert – to ensure the game is accessible to any level of play, and features no less than25 unlockable achievements to keep gamers motivated to play and win. Taken together, this makes for a wildly entertaining and remarkably adaptive mobile gaming experience complete with unrivaled replay value, engrossing action, and mentally engaging fun.

Hesitate and things might get too hot in this artic adventure! Rewarding iPhone fun is just an iceberg away with Flaming Igloo!

Features:

Dozens of progressively more challenging strategic defense levels.
Three gameplay skill levels – Beginner, Advanced, and Expert.
Diverse Array of supporting character to help you defend your igloo.
Multiple bonus magic symbols on every level to help your struggle.
25 unique unlockable achievements.
Whimsically designed, vibrantly colorful graphics.
Intuitive gaming controls.
Smooth user-friendly interface.
Flaming Igloo Lite 1.9 Update
Earn real world rewards with this release. Enjoy enhanced gameplay with added sounds!
More