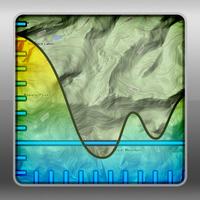 Geo Elevation: Map Elevation Chart Creator
Not Available
Removed
from the App Store
Geo Elevation: Map Elevation Chart Creator Description
*** New iPad Release Campaign! 50% OFF NOW! ***
Geo Elevation is a powerful tool to build a cross-sectional elevation chart from any paths/points on the map with a few clicks. Simply create a path and click on "Get Elevation" you will see a nice chart.

How does Mt. Everest look like if you cut through the peak, and view it from the side? Try to draw a path from your place to the nearest shoreline. See how slope decline as it approach the ocean? How about investingating the Mariana Trench's steep slope, which goes down to the deepest place on the Earth?

In addition, the line of the elevation profile is clickable to indicate corresponding location on the path that you draw.

(Update)
Now, this app works on both iPhone and iPad! Buy only once, and enjoy in both platform. We definitely recommend you to try it on iPad.

[Features]
- Get Elevation from single point
- Get Elevation from a path
- Path will automatically allocate 100 points (really high-definition of elevation profiles!)
- Export cross-sectional chart in PDF
- Export cross-sectional chart in PNG
- Export raw data in CSV format
- Export the path in KML
- Single-click to export all formats
- Indicator to match the side view and the top view
- Retina display compatible
- Customized UI for NEW iPad
- Multi-touch in the chart screen
- Current Location On/Off
- Draggable Waypoints (Adjust the path later)
- Instant calculation of the distance
- State of art intuitive path draw tool
- Universal binary works both iPhone and iPad.
- Unlimited Undo / Redo
- Convenient "Clear All" button to reset
- Navigation Mode (Lock the screen to browse)
- Search location to zoom the target location quickly
- Also localized in Japanese
- For iPad, there is transparency setting for the chart

[Usage]
- As a bike / running route builder: It's convenient to research your bike road profile in order to figure out the schematics of hills.

- Mobile Learning Experience in the Classroom. If you are teaching Geology or Earth Science, you might have a handout to build a cross-sectional elevation chart from a contour map, and you can let students to verify their answer by themselves. Don't forget, Geo Elevation will provide infinite locations to investigate! The usage is unlimited.

- Possible flood area investigation: Before storm surge or high tide hit your town, verify locations or road that could be flooded. Draw the path from your house to the nearest shoreline to see the vertical profile.

- Plan your Walk or Run: If you host a walk or run event, Geo Elevation will help you to find out the slope so that you can map challenging hill in your event. Additionally, it might help you to setup multiple routs depend of the slope.

- For hiker and mountaineers (send us your review if you used for your activities!)

Add your feedback in comments or send us email to iphone [-at-] objectgraph.com.

We would like to hear more user experiences! How did you use it? What did you use it for? Is there anything to improve?
Geo Elevation: Map Elevation Chart Creator 1.3 Update
-iPhone 5 Compatibility
More
More Information
Language:

English

Japanese

More