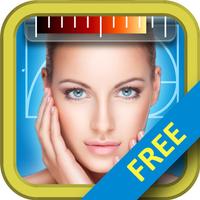 Golden Beauty Meter - Grade Your Selfie
Free Get
Golden Beauty Meter - Grade Your Selfie Description
This app is intended for entertainment purposes only and does not provide true beauty measuring functionality, but does match measurements to the Golden Ratio.

As seen on Oprah and in Rolling Stone - attractiveness is based off of the Golden Ratio - a formula found repeatedly in nature, and used by hedge fund managers, foreign currency traders, architects and biologists (and many others).

Try the Most Accurate Beauty Meter App in the App Store - NOW FREE!

Some 5 Star reviews:

"Love it", "Unique & fun", "Pretty sweet app", "Cool app! Got a 9.1", "Accurate and fun", "It's real", "A Beauty meter that actually works"

The GOLDEN BEAUTY METER says nothing about your overall attractiveness - but it does measure facial attractiveness - and hey - it's science!

Check out the screenshots below and see for yourself. You will not be disappointed!

Try with multiple pictures and see how closely you match science's ideal facial structure.