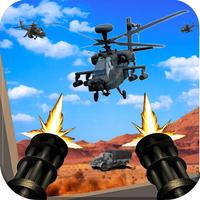 Gunship Helicopter Shoot War
Free Get
Gunship Helicopter Shoot War Description
Army Mountain Base is under attack. Defend your Army Base from choppers helicopter's attack and shoot down the attacking forces.

Try to stay alive during all out battle.Avoid all enemy fire and shoot down all helicopters. Get aware about enemy choppers movement and destroy their Air Force Strike. Get all hidden enemies on mountain with your mountain sniper shooting skills and prove your commando adventures.

Gunship Helicopter Shoot War Game is best army shooting game which includes a gunship pilot simulation game experience to offer you most realistic game play with splendid flying experience kind of role playing at various stunning locations in a real war clash via airstrikes.
The army seems helpless, the ground attack is not possible. The only chance of winning this war is an air strike.

Launch the attack on the most dangerous terrorists now before its get too late. You will become a helicopter pilot and suppress wars and terrors in various corners of the world.

The enemy has crossed into your land and now the fighting is taking place in the streets of the city and you the only future ghost soldier who can stop their advances. Protect your country. You have to win the battle at any cost as the future of the country depends on you!

The enemy is very strong but you are well trained chopper striker. You have entered in the mid field of desert of the death war and you need to target their diploid area camps, ships, tanks and other equipment. You are loaded with full of ammo and worlds best modern equipment. So just show your skills and beat the enemy.

GAME Feature:
Beautiful 3D environment
Enemy Artificial intelligence
Grab the game now,its FREE.
Amazing Movie Quality sound effects
Efficient weapon controls & movement.
HD graphics and optimized performance
Very engaging and challenging game play.
You can enjoy the best views in both tablets and Phones.
Complete army remote camp with real looking 3D army environment.
Various challenging waves of Game play, with each waves posing a different threat of enemy.
Gunship Helicopter Shoot War 1.0 Update