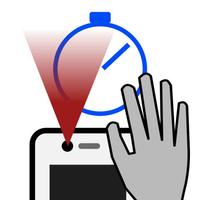 Hands-free Stopwatch: use hand gestures to control timer for swimming and kitchen
Free Get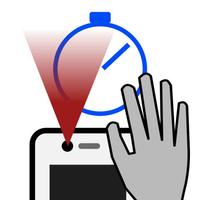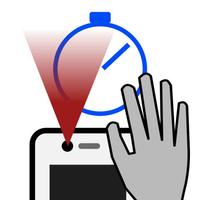 Hands-free Stopwatch: use hand gestures to control timer for swimming and kitchen
Free
Hands-free Stopwatch: use hand gestures to control timer for swimming and kitchen Description
Getting your hands wet or dirty? With this FREE app you can use a stopwatch without touching the screen.
It's fantastic for timing while you cook, following instructions with dirty hands, or for sweaty or pool fitness use. You can even use it for a "photo finish" lap timer - just break the beam with your body or hand to automatically end your lap in the pool or on the track!

This app has also proven useful to people with arthritis, or when fine movement is difficult or painful.

You use similar gestures to those you normally use on the touch screen, so it will feel natural right away. Watch the video here to see how it works: http://www.youtube.com/watch?v=vWI7b9NzQPc

Simply put down or dock your device in a stable, dry area. You can now use left or right hand gestures in front of your phone to start, stop, or reset the stopwatch.

If you are using your device around a pool, keep it safely away from water and splashes, and ALWAYS use a waterproof phone case!

Features

• Hands-free apps have been in the top utility 10 apps in many countries worldwide.

• Slick, fully functional stopwatch.

• Get similar gesture features on your iPhone/iPad to those found on some other latest brands of phones, right now!

• Integrated help and feedback tips to show you how the gestures work right away.

• Simply pick up the phone to use it as a traditional touch stopwatch.

• Turn off the on-screen help, for advanced users.

• Prompt support from the developer, accessible from within the app. If you want a feature added or have some problems, the developer is happy to help.

This app uses the front-facing camera and computer vision algorithms. It works reliably under normal lighting conditions, from distances of 20cm up to 1.2 metres.