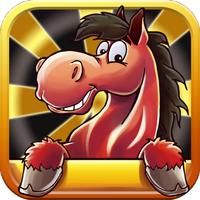 Hobbit Horse Free
Free Get
Hobbit Horse Free Description
** Save $2.99 - FREE THROUGH TODAY! **

☆☆☆☆☆ - "Super fun play value that keeps you coming back to beat all the levels." - MonsterFree Apps

☆☆☆☆☆ - "Watching your character jump onto a hobbit horse and ride the small pony is reason enough to get this!" - AppReviewer


Runs Great on the iPhone 5

You are a top archeologist on an expedition to find the legendary Infinity Gem.

After years of searching, you have found it in an old ruin called the 'Hobbit Horse Temple.'

You soon learn that taking the infinity gem has consequences. The temple has a guardian, and this guardian releases a terrible monster that will race after you.

If that isn't bad enough, the infinity gem will explode if you take it off the temple running paths.

In Hobbit Horse, you have to run, jump, and slide under obstacles and avoid man-eating plants, trap doors, spike pits, and fallen trees.

The monster is faster than you and will slowly catch you and kill you. Along your way are red jewels which give you a boost of speed so that you can outrun the monster for a short period of time.

If you are lucky, you will run into the legendary hobbit horse, that is faster than the chasing temple monster. Jump onto the Hobbit Horse's back for a fast escape.

As you go racing through the jungle, you'll encounter powerups that allow you to become ethereal, resurrect, and even run into coin powerups.

Each level has a portal that is opened up after you collect enough red jewels. Pass through the portal and onto the next level.

Can you beat all 18 levels and escape with the Infinity Gem?

Hobbit Horse is a great adventure and action game that both kids and adults should enjoy. Get ready to have the best time.

Enjoy all the levels which include hobbit horse riding, speed gems, spiked pits, deadly logs, exploding relics, man eating plants, super coins, and more.

The game runs great on the iphone 5, iphone 4s, iphone 4, ipod touch, and ipad 2 and 3.
Hobbit Horse Free 1.0 Update
More Information
In-App Purchases:

4000 Coins $0.99

15000 coins $1.99

40000 coins $4.99

250000 $19.99

More