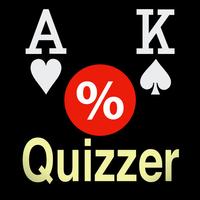 Hold'em Odds Quizzer
$3.99
Hold'em Odds Quizzer Description
Take challenging odds tests to improve your understanding of Texas Hold'em odds.

*** Pay once and enjoy forever ***
No in-app purchases/fees.
Continual improvement for many years.

*****
New: A user interface upgrade for iPhone X-series models.
*****

*****
"... extremely easy and fun to use ... excellent way to quiz your understanding of equity situations ... This can really improve your pre- and post-flop play and is a no-brainer $1.99 investment."
-- PokerSoftware.com

"Although there are a ton of poker iPhone applications available in the iTunes store, none are focused on actually making the user a better poker player.  Enter applications developed by PokerCruncher ..."
-- PokerSoftware.com

Many more great reviews from poker experts, pros, and coaches, and on our TwoPlusTwo forum thread.
(See our website.)
*****

First take our quick 10-question general assessment quiz. Then go deeper and take our pre-flop, post-flop, basic, and advanced quizzes. The quizzes cover common and important pre-flop and post-flop situations involving made hands and draws and random hands that you'll encounter frequently in actual play.

Then for even more of a challenge, take our hand ranges and multi-player quizzes (pre-flop and post-flop). Poker is a game of incomplete information; we can almost never put our opponents on specific cards. We must put them on ranges of hands (e.g. "I think he has AA or KK or AK") and make odds estimates based on incomplete information.

+ Quizzes you on dozens of common and important situations/scenarios.
+ Basic and advanced situations/scenarios, with specific hands and random hands and hand ranges, two-player and multi-player.
+ Shows you the questions in random order, times you, and shows you the correct answers.
+ Explains the players' outs and counter-outs and runner-runner outs, for post-flop questions.
+ Gives you an A+ ... F grade for each quiz, and a score, and saves all of your grades and scores inside the app.
+ Outs Chart.
+ Pre-Flop Odds Chart for common pre-flop matchups.
+ Odds Tutorial - explains "Equity", "outs", and more.
+ Copy any question's scenario and import into our PokerCruncher app to examine further.

See where your odds knowledge currently stands ... See if you can improve and get all A's ...

There's much more to poker than just knowing the odds of course, and you don't need to know the odds to 1% accuracy to be a good player. But you could be off far enough on your odds estimates for some important situations to make a difference. We believe the odds are the foundation and are worth mastering; we hope you think so too.

*****
See our website for our strong free app update history over many years.
Follow us on Facebook and Twitter.
*****

App Store reviews are greatly appreciated, thank you.

*****
Also please check out our companion apps Poker Odds Teacher and PokerCruncher.
*****
Hold'em Odds Quizzer 9.3 Update
Small improvements to the Menu --> Help … submenu:
1) Improve wording in a few places.
2) Add a new "Coaches & Pros" menu button, that takes you to our new Coaches & Pros page on our website.
We're very happy that some really good pros/coaches like these guys are using PokerCruncher and have created some great teaching material. Do check them out on our Coaches & Pros webpage. And also check out some great videos and blogs on PokerCruncher that they've created on our (improved) Tutorials & Videos webpage.
If you like Hold'em Odds Quizzer and our continuing work, please consider writing an App Store review, thanks!
-RJ, PokerCruncher, LLC
More