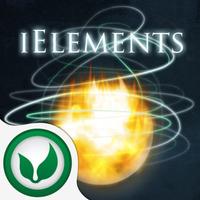 iElement Jewels
Not Available
Removed
from the App Store
iElement Jewels Description
WORKS ONLY IN IOS 6 AND LATER

Challenge four huge powers of nature. Four elements: fire, earth, wind and water. Collect them and be the strongest.
A beautiful puzzle game with bright and shining special effects and a little bit of magic. Includes two game modes - challenge mode with 15 different levels and relaxing mode to... relax. OpenFeint and GameCenter integration also included.

تحدي أربع قوى ضخمة من الطبيعة. أربعة عناصر: النار والأرض والرياح والمياه. جمعها وتكون الأقوى.
وهناك لعبة لغز جميل مع المؤثرات الخاصة مشرقا ومضيئا وقليلا من السحر. ويشمل اثنين من لعبة وسائط - وضع التحدي مع 15 مستويات مختلفة والاسترخاء لوضع ... الاسترخاء. OpenFeint التكامل وجيم سنتر شملت أيضا.

挑战四根巨大的权力的性质。四元素:火,土,风,水。收集他们是最强的。
一个美丽的益智游戏,明亮闪耀的特效和一点点魔法。包括两种游戏模式 - 挑战模式与15个不同的层次和放松方式...放松。 OpenFeint的和GameCenter的集成也包括在内。

Défiez quatre puissances énormes de la nature. Quatre éléments: le feu, la terre, le vent et l'eau. Collectionnez-les et être le plus fort.
Un jeu de puzzle belle vives et brillantes des effets spéciaux et un peu de magie. Comprend deux modes de jeu - mode défi avec 15 niveaux différents et de détente de mode pour ... détendez-vous. L'intégration OpenFeint et GameCenter également inclus.

प्रकृति की चार विशाल शक्तियों को चुनौती. : चार तत्वों अग्नि, पृथ्वी, हवा और पानी. उन्हें ले लीजिए और मजबूत हो सकता है.
उज्ज्वल और चमक के विशेष प्रभावों और जादू का एक छोटा सा के साथ एक सुंदर पहेली खेल. दो खेल मोड शामिल 15 विभिन्न स्तरों के साथ चुनौती मोड और मोड आराम ... आराम करो. OpenFeint और GameCenter एकीकरण भी शामिल है.
iElement Jewels 6.1 Update