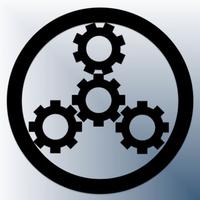 iGearbox
Not Available
Removed
from the App Store
Screenshots for iPhone
More Screenshots for iPad
iGearbox Description
iGearbox is an ideal educational App to interactively calculate the gearbox ratio for regular and planetary gearboxes.

It offers two main tools:

1) Gear Train Tool
A touch drag & drop-based design area that you can select the gears from the library, assemble, and calculate the ratio and speeds of each gear and the whole gear train.

2) Planetary Gear Set Tool
An interactive and dynamic graphic based environment to learn about the planetary gear sets with different configurations and calculate ratios and the gearbox output.

User selects the stationary, the input and the output parts, and observes the motion of gear set components in action. Entering the number of ring and sun teeth, the app calculates the ratio and the gearbox output for each configuration. Also, the symbolic ratio relation of the gearbox will be shown for each configuration.


******** Features *********

Gear Train Tool:
- Touch/ drag & drop-based design environment
- Multiple gear train configuration (up to 8 gears in train)
- Ratio and speed calculations for each gear and the whole gear train

Planetary Tool:
- 6 different configurations. i.e., each component (ring, sun, planets arm) can be selected as stationary, input, or output components
- Dynamic interactive motion of the components for each configuration (Animations)
- Symbolic ratio equation for each configuration
- Ratio calculation for each case based on the sun and ring # of teeth
- Output calculations based on the gear configuration and specification
- Planetary gear set formulations as a help document
- Adjustable rotating speed for the animations of the gearset
- Dropbox upload of screenshot and data
*******************************
iGearbox is a perfect tool for instructors to teach and show the basics and fundamental concepts of regular and planetary gearboxes. Connecting the device to the monitor or projector, instructors can present the animations of the gearbox for different configurations.
*******************************
iGearbox is a universal App that works on iPad, iPhone, and iPod Touch. You will be able to install the App on all these devices when you buy one copy.

Disclaimer:

iGearbox is developed to be used for educational purposes. Although the calculations done by this App were made with great care, it may contain errors or inaccuracies. Using the results of the calculations is the sole responsibility of the user.
iGearbox 3.0 Update
- Added Support for iPhone 4'' screen and bigger
- Fixed Dropbox freezing issue
More