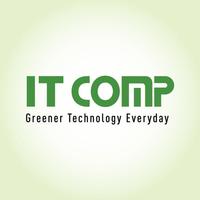 IT Comp Store
Free Get
IT Comp Store Description
CROSS-FUNCTIONAL EXPERIENCE & CROSS-INDUSTRY EXPERTISE
IT Comp Sales & Services, being the Trusted Name in IT solution provider, was incorporated humbly. On 25 Oct, 2003 as a sole proprietor, and we have officially diverted to a private limited company on year 2007 to IT Comp Sales & Services Sdn. Bhd. (798347-V) to enhance the customer's confident towards the company's reputation.

Since its humble beginning at The Mines Shopping Mall, the company has grown from a staff strength no more than 2 to over 30 today, from a small retail mot more than 200sf to a total of 4 established branches in Malaysia. Our fast reputation is based on the company's commitment to superior customer services, innovative solutions, and last but not least, we provide highest quality standard products to our customers.

Backed by more than 12 years of solid experience and expertise in IT hardware and software, IT Comp has gained tremendous insights into the IT industry and market, providing reliable solutions to corporate clients, education service provider, and especially end users. We are now considered as an One-Stop Centre for Information System Design, IT Equipment Supply, Service, Consultancy and Maintenance Company.

We're gone beyond customer satisfaction and have developed special relationship with our customers. We believe that our success owes much to these special relationship. In place of the usual "Client-Supplier Mentality", we treat our customers as our partners. Together, we work at developing long-term objectives and strategies for the mutual benefit so four respective organization and in a larger context & our respective industries.

FROM DAY ONE SINCE THE BUSINESS STARTED , WE HOLD A STRONG BELIEVED THAT , OUR SUCCESS RELY A LOT ON GOOD RELATIONSHIP WITH CUSTOMERS & ALSO SUPPLIERS .
IT Comp Store 1.1 Update
What's New
- Improves performance
- Bugs fixes
More