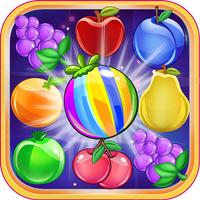 Jelly Candid Fruit GO3
Not Available
Removed
from the App Store
Screenshots for iPhone
More Screenshots for iPad
Jelly Candid Fruit GO3 Description
Welcome to this Jelly fruit go 3 on the world where you can play unlimited with your jelly fruit go 3 frenzy! A new jelly fruit archery game is now available at your fingertips and here we have kept the name of this new jelly family member as sweet puzzle game Jelly fruit blast 2016.
Jelly fruit go3 is a simple but addictive match 3 game that allows its users to play and match colorful jewel candies for completing each game level. It is an easy-to-play-app with pleasant dynamics and amusing uncertainly of matching these jewel fruit GO 3 at fingertips. The game is kids friendly for its simple algorithm; however, adults will find it enough enticing and engrossing for pure fun and engaging improbability integrated in the game plan
How to play this Jewel Fruit Go3 boom game: 
This shoot jelly frenzy deluxe game will offer you simple but exciting game plan. You have to shoot the jellies at least three of same color and shape! More the merrier is the simple game plan of this Jelly blast 2016 app. You have to shoot as maximum number of the best jelly boom Fruits and get the level be over by the minimum shots. Indeed the game is super simple to play but it is really hard to master. The juxtaposition of simple and tough dynamics of this jelly blaze quest is the prime of this jewel shooting adventure game.
You can set off the Jelly Candy Fruit blaze sound and music, see how to play with the small menu at the bottom left of the game screen.
Before you start playing with this free Jewel pop game on your ios screen and tablet, take a look at its rocking features. We can bait that you will love this sweet puzzle game jelly frenzy game as much as your kids will love playing this.
Check out this amazing puzzle game and jelly shoot features :
• There are more levels to play the game Jelly blast 2016: it is a super rocking pass time game you can play on your ios device,
• Bright and vibrant user interface: it is enormously easy to cognize the jelly blaze,
• Enjoy the awesome sound effect: it will keep your energy level always up,ù
• The jelly pop app is built with lively animation, awesome graphics, and stunning colors: your jelly shooting adventure will be exciting unlimited always with new algorithm
Difficulty level will increase as you climb up the level of jelly burst: enjoy the jelly shoot frenzy and score bagful,
• You can chase the highest score: engage yourself against challenge and advance your puzzle game Fruits jelly archery skill.
Enjoy the jelly go on your ios device now and start blasting jelly pop at your fingertips. Enjoy puzzle game the jelly blaze mania with your friends and have fun unlimited!
jelly Fruit shooter blast games are all-time hits because of their ageless appeal and unlimited fun-packed colorful game plan.
These funny jelly shoot games are wonderful source of entertainment, kids and adults both love this Sweet jelly puzzle games for their simple but exciting jelly adventure game play algorithm. The free jelly epic ios app,jelly Fruit shooter blast, is the latest jelly classic game avatar now available for play unlimited at your fingertips both on your jelly ios mobile and jelly tablet.
Play this amazing jelly fruit quest epic app: 
Post download you need to play the new jelly game with all its jelly fruit frenzy to top jelly shoot as max as possible numbers of lovely and attractive jelly Fruit shooter of different stunning colors. You need to shoot either three jelly Fruit together or more and these top jelly Fruit shooter have to be of the same color. 
You have to complete each level with as minimum as possible top jelly pop on screen! If you can complete a level super-fast, you are the winner and you will get to play in the next level. If you fail to complete the new jelly shooting game within stipulated action frame, you have to play the new jelly pop shooter game again on the same level where you are stuck.
Your reviews will help us to improve the game much!
UltraGames® 2016 All Rights Reserved.
Jelly Candid Fruit GO3 1.5 Update