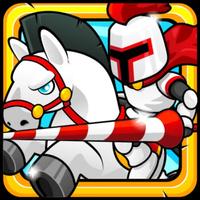 Jump Me – Knight Tour Puzzles
Not Available
Removed
from the App Store
Screenshots for iPhone
More Screenshots for iPad
Jump Me – Knight Tour Puzzles Description
Up for new chessboard logical moves and strategy logic board puzzle?
Well, you love the mind-boggling logical challenges of Jump Me – the ultimate Knights Tour checkerboard variation!

We made sure to create a chessboard game & logic board puzzle that is both fun, challenging and brain teasing, so you can entertain and train your brain at the same time.

Play with the Knight & his mighty horse and plan your chess board moves, make good strategy logic decisions and pass through all levels.

-- SIMPLE, YET MIND TEASING --
The logical challenge in Jump Me is simple: pass from black to white tile on the chess board by using the pile of bricks.

While you start with simple logical challenges and smaller logic checkerboard, it will get harder and more complicated as you progress in the puzzle board game. Each of the logical moves you make is important because each level has a target score.

You'll fail to pass the level even if you miss the target score by 1, so watch out.

-- BOOSTERS & ADDITIONAL HELP --
When the going gets tough with some of the harder levels in our logical moves and strategy logic challenges, you may make use of hints, and additional boosts to help you get to the target score of the level.

Collect diamonds and coins so you can shop for boosters too. In some levels you will also gain boosters.

Currently there are 4 boosters in Jump Me:
1. Undo move - return one step move backwards.
2. Tile stamp - stamp one tile (no matter the position of the knight as stepped tile).
3. Teleport - move the knight to another open tile.
4. Hint - show what the possible next moves you can do are.

But be careful, when you use boosts its count as a move.

-- WHY YOU'LL LOVE JUMP ME --
* simple logic board puzzle with checkerboard Knight's Tour game play
* chessboard game with exquisite graphics and artwork
* Wide array of levels (new levels are added frequently) with various chess board moves and logical moves challenges
* collect diamonds and coins to buy boosters
* 4 boosters and helpers for the toughest levels
* 5 lives & ability to shop more
* Free logic chess board game


Now go, say yes to a fun, thrilling and mind teasing logical challenges and gaming entertainment with the ultimate puzzle logic board game.
Download Jump Me - Knight Tour Logical Moves Chessboard for FREE!
Jump Me – Knight Tour Puzzles 2.10 Update
- added new levels
- fix bugs
More