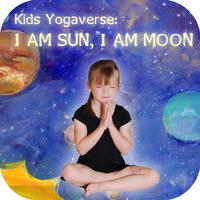 Kids Yogaverse: I AM SUN, I AM MOON
Not Available
Removed
from the App Store
Screenshots for iPhone
More Screenshots for iPad
Kids Yogaverse: I AM SUN, I AM MOON Description
Kids Yogaverse introduces a complete Sun and Moon yoga flow just for kids! I AM SUN, I AM MOON includes 19 fully animated poses to awaken the mind, move the body and empower the spirit that children will love practicing for a lifetime of healthy, happy activity.

I think Kids Yogaverse relaxes you and gets the anger and stress out of you. When I am having a bad day I can take a deep breath and think of my happy thought. –Jack, 8 yrs.

When Ha, the strong Sun Warrior, disappears behind a mystical cloud in India, the cool Moon Princess, Tha, flows through the clues left by the animal sages to discover her friend's bright light. Follow Ha and Tha as they unite through the ancient practice of Sun And Moon Yoga Salutations.

There are three ways to enjoy our story:
*Listen to the book
*Read the book
*Autoplay
*Additional Interactive Features:
*Animated Poses: Follow the children as they do the real poses through the yoga journey.
*Breath Affirmations: Press the Breath button on each page and you will hear a special message just for you!
*Guess What? Press the Guess What button and learn an amazing new fact.

Kids Yogaverse: I AM SUN, I AM MOON brings together two of the most loved yoga flows known as the Sun and Moon Salutations of Hatha yoga. Building blocks for yoga practices worldwide, these fundamental postures offer children healthy ways to awaken the body and settle the mind.

"Kids Yogaverse has done a fabulous job of combining kids love for technology with holistic health. The creative team of Kids Yogaverse are making it easy to spread the kids yoga love by appealing to this tech savvy generation." -Donna Freeman, Yoga In My School

In this beautifully hand drawn Kids Yogaverse app, we retell the story of yoga's birth 5000 years ago through the eyes and hearts of two mythological children from India's Indus Valley. The young boy Ha is a proud, strong sun warrior who wakes us up for an energetic adventure flow to find his true purpose in life. But when Ha goes missing in the forests of India, it is up to Tha, a radiant moon princess, to find the brave warrior and in turn, discover the special light in herself. Hidden among the changing Indian landscapes on each page, children can seek out the hidden Ha as well!

Along with a vibrant cast of nature's characters, from the Painted Elephant and the Fierce Tiger to the Banyan Tree and Lotus, kids will learn universal messages of truth and hope to spark their own light.

A great, great tool to use anytime in a classroom!! My students LOVE how it gets them moving- It has improved the way the kids de stress and focus! I will use Kids Yogaverse for years to come! -Kathy Pendergrast, 3rd Gr. Teacher

Kids Yogaverse is where yoga, art, music, movement, creativity, and culture collide. We are a Charleston, SC-based yoga company, which creates innovative ways to connect kids to movement, music and art through great stories and ground breaking technology. We inspire grown ups and nurture kids through our teacher training programs, award-winning stories, apps and activity books. Visit us at www.kidsyogaverse.com to explore our worlds!