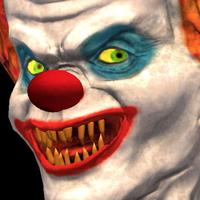 Killer Clowns And Zombie Dogs
Free Get
Screenshots for iPhone
More Screenshots for iPad
Killer Clowns And Zombie Dogs Description
He entered an abandoned amusement park and began to fight for his life because he found; "Killer Clowns and Zombie Dogs".

When the player launches the game you get a quick splash screen sequence with game instructions.

There are unlimited levels, random building layouts and random enemy spawning points.
The player starts in a barrel - which quickly goes away. On the top menu-bar you can see your player's total health points and the amount of available water shots and popcorn grenades you have collected as ammo.
Also at the top, you can see the number of clowns remaining to be knocked down to clear the level.

The radar in the upper right will give users a view of the attacking dogs, clowns, the unbeatable ventriloquist dummy and ammo in your area. When users cleared their current level of enemy clowns on the radar, they will see a green arrow pointing to the now open gate.

The player has to play carnival games in order to acquire ammo, such as water shots for the clown gun and popcorn grenades or use the melee button for close combat.

The fist button can be used for a melee attack – 4 fist swipes will knock down a clown and so will 2 water shots. Also, 2 fist and 1 water shot will knock down an attacking zombie dog.
A popcorn grenade will take out all enemy clowns and dogs in the area.

Users can "Save" successfully cleared levels by posting on Facebook or watching ads. Also, users can get more health points by successfully completing mini-games. In the mini-games users have no weapons and must run through a maze of randomly moving and falling walls to a transfer gate.

The interface has variable languages including: Chinese, Japanese, Spanish, French, Polish, Russian and English.

FEATURES
• Play for Free - No In-App Buys
• Unlimited Levels
• User Chooses Difficulty
• Win Various Carnival Games to Win Ammo
• Immersive 3d Gameplay
• Random Layouts and Spawn Points
• Multi-language Interface
• Mini-Game Rewards

© 2017 Clarence Sheridan
Killer Clowns And Zombie Dogs 0.4 Update
The player has to play carnival games in order to acquire ammo, such as water shots for the clown gun and popcorn grenades.
3 carnival games include:
* Hit-the-cans
* Hit-the clown's nose
* Spin-the-wheel
Hard difficulty level has no ammo on park grounds for pickup (Easy does).
Main screen shows highest level achieved, so player knows what they have to beat.
Adjusting reach of Ventriloquist Dummy
Speeding up enemy clowns and zombie dogs
More