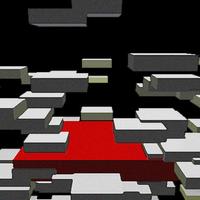 Kiln
$0.99
Screenshots for iPhone
More Screenshots for iPad
Kiln Description
An updated take on the classic ball and paddle computer game genre popularised by Breakout and Arkanoid.
Touch the screen to launch the ball (or temporary bullet ball), and tilt the playing device to move the paddle.
Over 80 levels that progress in difficulty and content, requiring both fast reflexes and forethought to successfully complete.

Features the elements you'd expect from this style of game:
- Accurate collision detection
- Special effect bricks

Plus the following innovations:
- The game is in 3D - which is used as a gameplay element. The 3D elements are activated and adjusted when they are hit by a ball (first occurs at level 21)
- An initial puck trajectory, displayed when launching a ball, enables the player to determine the best position from where to start the new ball
- Bullet pucks – a temporary ball that can be fired by touching the screen: an initial launch trajectory is displayed to help the player to decide when to fire. (first occurrence level 41)
- Obscuration features – when destroyed, some bricks temporarily obscure the players view of the playing area.

Warning - The game features graphical effects that flash the screen. Do not play if you suffer an adverse reaction to such events.