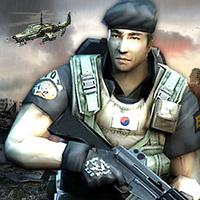 Last Commando Strike: Modern Terrorist Shootdown
$2.99
Screenshots for iPhone
More Screenshots for iPad
Last Commando Strike: Modern Terrorist Shootdown Description
Dare to clash with furious enemy commandos? Then play this game of commandos, virtual commandos bases filled with fiery special services commandos. To survive, play with strategy in mind, kill them one by one. Enemy special services commandos have occupied these base camps and are planning, training to invade yours, Counter strike them by infiltrating, fighting furiously until each is killed. Be the best silent assassin in this killing clash of fire arms. Find the playstyle that suits you: Assault, Heavy, Recon, Sniper, Support, Bounty Hunter or Sapper.

HOT FEATURES:
> Modern combat commando action packed game with best controls.
> Each base camp map has 20 rarity levels.
> Sharp controls, impressive graphics. Pocket Gamer
> Over sixty (60) commando missions.
> Unlock higher-tier weapons by mastering lower-tier ones
> Challenging maps to test your fighting skills.
> Fast-paced story missions with various challenges taking you from Tokyo to Venice
> Collection of different weapons to choose.
> Perfect weapon controls with shooting sounds.
> Realistic 3D environments with detailed graphics.
> High-end, immersive tablet gameplay!
> Play the new Spec-Ops missions for a real FPS adrenaline rush
> Fire, jump, zoom, radar and many other awesome features.
> Its ADS FREE version.

Step into the world of black ops combat against the forces of terrorism in this epic modern SNIPER shooter for mobile and tablet devices. Upgrade your ARSENAL , equip modern strike WEAPONS and venture into the most infamous battlefields to test your individual and team sniper games skills. Step into the world of specialized black ops FPS shooting, ranging your weapons for ultimate commando adventure on uncharted territories. Shoot your way out of lethal situations and accomplish COMMANDO MISSION free game levels to reclaim lost army bases.

Experience the ultimate 3rd person shooter with stunning console quality visuals, precise controls, advanced physics, destructible environments and full voiceovers. Jump into the heat of battle and push your device to the limit!

Take to the battlefield WEAPONS of counter strike:
MP5
M4
AK47
SHOTGUN
SNIPER RIFLE

Step into the shoes of killing machine commando in this ultimate battle of domination in this commando warfare game. Go on hunting these savages. Warfare against online rivals from around the world!

Battle your way into the heart of enemy territory! Run through the battlefield dodging mines and leaping barriers as you move to the next cover point to avoid enemy fire. Emerge from destructible cover points to engage waves of enemies! Step onto the battlefield with the game that raised the bar for first-person shooters. Create a squad, add your friends and test your skills.