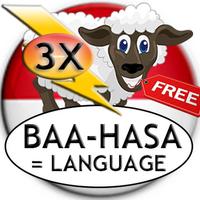 Learn Indonesian Fast with Lingo Links (FREE)
Not Available
Removed
from the App Store
Screenshots for iPhone
More Screenshots for iPad
Learn Indonesian Fast with Lingo Links (FREE) Description
THE FAST, FUN AND EFFECTIVE WAY TO LEARN INDONESIAN BY WORD ASSOCIATION.
• Proven 3 times more effective
• "I couldn't stop laughing" - Lucy!
• Nearly 90% long term recall
• Learn over 50 common words free
• Funny and entertaining

Lingo Links™ gives you immediate access to learn Indonesian fast with lasting results.

Word association creates a bridge between a language you know and new memories without the need for constant repetition. As an Improv Instructor, I've put my skills to creating word associations that really work to learn Indonesian. The more bizarre the better - that's just how your mind works!

Studies carried out by Atkinson & Raugh show an 88% improvement in retention of language using a word association method of learning.

Of course, the more you practice, the better, and with Lingo Links™, you'll be entertained while you learn.

Features

• Only learn the words you want when you want
• Slide away any words you already know
• Review your learning as often as you like
• Flick through words fast (no internet required)
• Play to reinforce the words you're learning
• Certified by native Indonesians

Learn Indonesian by word association contains everything you need to learn over 400 words of Indonesian quickly and easily - ideal for travelling and holidays.

What people have been saying about it
----------------------------------------------------
"Learning a foreign language can certainly be challenging, however the word association process takes the edge right off. When you start conversations you'll find yourself going through the (often quite amusing) associated images in your mind." - Martin

"It dispelled my serious concerns about a poor memory that had been noticeably deteriorating and impacting my day to day as I've got older" - Kimaya

"Learnt 10 new Indonesian words in 30 mins and when my tutor tested me on them 1 hour later, she was so impressed at how fast could learn them and could repeat them back to her. Freakin' awesome imagination James." - Carolin

Based on the Lingo Links book.

"My aim is to provide a method of learning Indonesian which anyone can use, that not only makes words easy to remember, but is presented in a manner which is engaging, comical and highly effective. I learned Indonesian using this method and I love being able to share it with you" – James

Check out www.lingolinks.biz for more details to learn Indonesian or Malaysian with many Free samples

Go Pro for 100's more words!
Learn Indonesian Fast with Lingo Links (FREE) 02.07 Update
Layout Corrections for iPhone 4&5
Database update
More