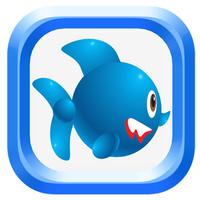 Lil Sharky
Free Get
Lil Sharky Description
A long way out in the deep blue sea there lived a shark. Not just an ordinary shark, but he is the smallest shark in the entire ocean. One day some fishermen saw this shark and named it lil' sharky, because he is very small compared to the other sharks. Fishermen explained to the locals that this shark is very unique and very energetic.

Many people want to see this extraordinary creature, but it is very hard to find him. It is Lil Sharky's nature to roam freely and to stay slick every time. Furthermore, he's an extremely gifted shark, which makes him easily avoid dangerous enemies also easily overcome any obstacle his faced with including his fellow sharks, ninja sharks to Kraken the big octopus. He collects coins so he can give coins to pirates so that the ocean will be freed from them.

This is an action game. You just have to swim and overcome every obstacles in this game. There are 45 levels that you can play. Tap your screen to help Lil sharky overcome every obstacles.

Enjoy this faboulous game everyone!!!
Lil Sharky 2.0 Update
-iOS Deployment Target : Up to iOS 11.3
More