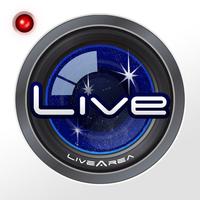 Live Area
Not Available
Removed
from the App Store
Live Area Description
Known problems:
・In the US, depending on the state and area, 3G users using AT&T might not be able to connect.
・Users using Wi-Fi with high security might not be able to connect without special settings.

LiveArea is an application which can stream video and audio.
Furthermore, you can match with users all around the world and enjoy chats with them using
this video-phone.

■ What is "Live Area"?
Using the GPS and your location information, you can look for users around you and watch their live video.
You and other users are symbolized by stars, displayed on a 3D sky in your iPhone.

Stars near you are users living in your neighborhood.
If you click on a star, you can enjoy this user's live video.
In addition, if you send a request to this user, you will be able to chat directly with him via video-phone.
If you enlarge the area, you will be able to watch users far from you (or overseas users) live streaming video.
Of course, if you turn off the video, you can simply chat via voice.
Compatible with the iPhone3G/3GS/4, you can also switch the external camera to the iPhone 4 internal camera.

Since the application is compatible with the 3G and Wi-Fi network, you can use your 3G access outside, and a Wi-Fi access
when you are at home or at work (there is no need to turn of the firewall or do any setting).

■ How can this be used?
After launching the application, users around you (symbolized by stars) will be displayed on the screen.
You will be able to chat with users all around the world by enlarging the area around you!

■ The popular function "Pen" is currently sold in the SHOP!
With the "Pen" function, a hit seller, you can draw or write on your screen. You can use your finger
to write things on the screen during a conversation (which are displayed instantly on your partner's screen).
More Information
In-App Purchases:

PenPen $2.99

More