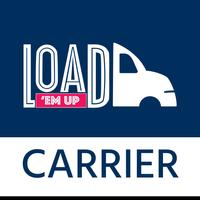 LOAD EM UP
Free Get
LOAD EM UP Description
LOADEMUP DRIVER - THE APP FOR CARRIERS

Have a truck and ready to take a load.? Log into your carrier app and go straight to the load board.!

Use our advanced filters to sort through a multitude of loads placed by shippers and freight brokers alike.

Negotiate.! Using our platform you can counter and accept offers from shippers. You only settle on a price after both parties have 'accepted' it, in other words, the load is assigned after the 'dual handshake' is complete.


What is LoadEmUp.?
LoadEmUp is an app which connects shippers to carriers. A shipper places his load on the load board, after which a carrier can view the details of the load. The carrier can then decide whether to accept the offer or counter it with an offer of his own. The shipper and the carrier negotiate until a price has been agreed upon by both parties and the 'dual handshake' is complete.

After this the Load is placed in the 'My Jobs' page of the carrier app, and the carrier can start the load. The carrier can upload a picture of the load during pick up. Once the carrier starts the load, he can either use google maps or waze for navigation. Once a load is complete, the receiver has to sign on the app, and the carrier can upload a picture of the load on the app. After this an invoice appears and the carrier can submit, after completion of the load.

Notes: We use location data to identify the most suitable driver for a particular customer booking.Bookings are send according to cities, and the distance calculation is done with the help of location. For this, we need to use the location update.
LOAD EM UP 1.0.7 Update
Bug Fixes done for Improvement.
More