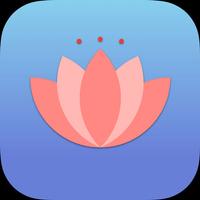 Lotus - The Calming App
Free Get
Screenshots for iPhone
More Screenshots for iPad
Lotus - The Calming App Description
Lotus - The Calming App. Relax and stay focused with the Lotus chatbot, a calm chatbot companion.

Try saying to Lotus things like:
-"Give me some wisdom."
-"I need some motivation."
-"Tell me about forgiveness."
-"I need something calming, Lotus."
-"Help me find my zen."

And Lotus will respond with thoughtful insights, soothing quotes, and helpful adages to help you relieve stress, find your strength, and focus your mind.

Get pocket wisdom with Lotus - The Calming App:
*Strengthen your mind with quotes through the ages.
*Learn and grow with Zen stories and sayings.
*Be inspired by the greatest minds in history.
*Chat with a friendly AI.

Why Lotus?
Never before has there been a chatbot solely focused on helping you gain insight, awareness, and clarity.

With help from this active meditation partner, you'll be able to receive all the benefits of meditation without any of the solitude.

Lotus - The Calming App is a non-judgemental space where you can get immediate feedback and advice.

Benefits of sharing your thoughts:
*Promotes mental health
*Strengthens self-awareness
*Provides emotional relief
*Relieves tension

Lotus encourages you to take out some time to think calmly and peacefully about wise sayings, mantras, and quotes. Lotus promotes active meditation and introspection.

Benefits of meditation:
*Reduces stress
*Decreases anxiety
*Promotes mental health
*Enhances self-awareness
*Increases attention span
*Enhances memory
*Promotes kindness
*Improves sleep
*Enhances emotional health
*Decreases blood pressure
*Helps control pain

Try waxing philosophical with Lotus or simply spend some time chatting in a calm space. Do whatever your heart desires and Lotus will abide.
Lotus - The Calming App 1.0 Update