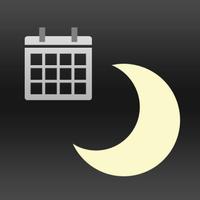 Lunar Diary
$2.99
Lunar Diary Description
From time immemorial different traditions ascribed certain significance to different days of the lunar month. Some days are considered to be very positive, beneficial, others can be difficult, problematic. There are also days regarding which different traditions contradict each other.

This app invites you to form your own opinion about the Lunar Days and to compare what traditions are saying with what you actually experience in your life. It offers you to:

1. View the current, past or future lunar days for a specific location on the Earth.

2. View a summary of a specific lunar day's meanings offered by different traditions.

3. Write and save your own notes about the experiences that you had on that specific lunar day, and compare them with your previously saved notes.

Based on your observations, you can then decide which lunar days work the best for you, and you can mark them accordingly, to easily see both the best and the most problematic days in any month.

This app is an addition to my flagship app iLuna. iLuna doesn't take into account the precise location of the user in the world as it is not needed for lunar phases, lunar mansions, or void-of-course periods. Lunar Diary goes one step further: it allows you to specify or select a location, and therefore gains ability to calculate the lunar days for that location.
Lunar Diary 1.1 Update
Updates and fixes for the latest iOS version.
More