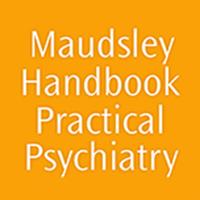 Maudsley HB Prac Psychiatry 6E
$39.99
Screenshots for iPhone
More Screenshots for iPad
Maudsley HB Prac Psychiatry 6E Description
This Oxford University Press app-book is developed by MedHand Mobile Libraries. Improve your performance with relevant, valid material which is accessed quickly and with minimal effort in the palm of your hand using MedHand's patented technology.

THIS APP-BOOK includes unique functions such as:

• A powerful search
• Bookmarks
• Complete set of medical calculators; Body Mass Index, Peak Expiratory Flows, Dehydration Correction Calculator and more
• Highlighting
• History
• Notes and picture notes

About this title

• New edition of this indispensable handbook for all psychiatric trainees, brought fully up-to-date with psychiatric practice in the UK
• Includes a new chapter on mental health law, making this difficult topic accessible to trainees
• Covers all common interview situations, with all guidelines backed up by references to the evidence

New to this Edition:

• A new chapter covers mental health law in England and Wales. It explains the duties law places on health systems and professionals to support patients to make decisions about their own health, and also explains the legal frameworks in place for children and people with mental illness or other conditions who may require others to decide their health care.
• Recent developments have meant that the chapters on the psychosocial assessment in adults, the neuropsychiatric assessment, and special problems and treatment have been thoroughly revised.


The Maudsley Handbook of Practical Psychiatry has long served trainees in psychiatry, presenting them with practical and essential advice. This new edition of the orange book provides guidance on the psychiatric and neuropsychiatric examination and interviewing of adults and childrennot just as a central skill, but as the basis for reaching a diagnosis, formulation and defining a treatment plan.

It covers special interview situations, such as dealing with specific patient reactions, and other special problems, for example, conducting a complicated assessment in cases of self-harm. The book concludes with important legal issues and is supported by helpful appendices for ready-reference.

As with previous editions, this sixth edition has been revised and rewritten with the full and active involvement of a group of consultant psychiatrists and trainees, making it a highly relevant and practical handbook for all psychiatrists whether learning or refreshing their skills.


Authors: Gareth Owen, Simon Wessely, and Robin Murray

________________________________________

MedHand Mobile Libraries offers a SUBSCRIPTION FREE application without edition upgrade. MedHand is the exclusive partner of Oxford University Press, publishing the latest editions of their Medical Handbooks in digital format.

MedHand offers the most trusted and well recognized medical guidelines provided by excellent publishers. MedHand delivers what you need, trusted knowledge at the point of care!
Maudsley HB Prac Psychiatry 6E 2.3.2 Update
General bug fixes and content updates
More