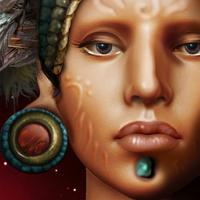 Mayan Mystic Oracle
Free Get
Mayan Mystic Oracle Description
The Mayan Mystic Oracle iPhone App with "13th Baktun Countdown Clock" is a fun way to deliver personal Insight into your daily questions while there is still time. The oracle's messages are not inherently good or bad but how we interpret them may reveal things about the way that we perceive the world.

This App is based upon the conceptual meaning of the 20 Tzolkin Calendar Hieroglyphs and 13 day count symbols. The word "Tzolkin" means "the distribution of days." It was used on an astronomical new year when priests indicated what days farming and religious events were to take place within a 260 day cycle. This iPhone App delivers insight through a drawing of the Tzolkin Hieroglyphs and day count numbers. The interpretation of each Insight is intended to be relative to the person asking.

If there is a match of three or more of the same Hieroglyphs delivered for your question, the Oracle alerts the player with a "Baktun Revelation".
Mayan Mystic Oracle 1.0 Update
More Information
In-App Purchases:

MAYAN ORACLE AD REMOVAL $0.99

More