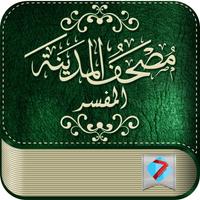 Medina interpreted Quran - مصحف المدينة المفسر
Free Get
Medina interpreted Quran - مصحف المدينة المفسر Description
تطبيق مصحف المدينة المفسر للايباد يقدم لك تجربة واقعية في قراءة القران الكريم، فهو يعرض المصحف الأكثر انتشارا ألا وهو مصحف المدينة المنورة، مصحوبا بتفسير ميسر للآيات القرآنية مع إمكانية الاستماع إلى التلاوة بأصوات مجموعة من مشاهير قراء العالم الإسلامي وهم (سعد الغامدي – السديس – ماجد فاروق و أكثر..).
مصحف المدينة المفسر سهل الاستخدام ويتيح لك الانتقال السريع الى السور أو الأجزاء عن طريق جانبي الشاشة، كما يقدم لك قائمة سفلية تحتوي على الوظائف الأكثر استخداما، كما يتضمن إمكانية استخدام العلامات المرجعية من أجل سرعة الوصول الى موضع القراءة لاحقا.
توفر لك القائمة السفلية عدة وظائف هامة مثل تغيير لغة الواجهة والاستماع الى التلاوة ودعاء ختم القرآن، كما يوفر لك إمكانية الانتقال السريع برقم الصفحة أو زيارة العلامات المرجعية، او المشاركة على الشبكات الاجتماعية كفيسبوك و تويتر وجوجل +.
يتيح لك تطبيق مصحف المدينة المفسر الاطلاع على تفسير ما تقرأ من الآيات من يسار الشاشة أو بتغيير وضع الجهاز أفقيا لتنقسم الشاشة تلقائيا بين آيات القرآن والتفسير الميسر.
ملاحظة التطبيق مجانى للتجربة لكن تحتاج لشراء المحتوى كاملا من الداخل
استمتع بقراءة القرآن مع تطبيقنا الجديد ولا تنسى التقييم

Medina interpreted Quran application for iPad offers you the experience of realistic reading the Quran,

It displays the holy Quran which is the most prevalent, namely Quran Medina, accompanied by a simple explanation of Quranic verses with the possibility of listening to the recitation of famous readers in the Islamic world such as (Saad Al-Ghamdi - Sudais – Majid Farouk …).

Medina interpreted Quran is easy to use and allows you to Jump to the Juz' or parts through the sides of the screen, it also offers you a fast actions menu containing the most commonly used functions, also includes the possibility of using bookmarks for quick access to the subject of reading later.

Medina interpreted Quran provides you with fast actions menu with several important functions, such as changing the interface language and listening to the recitation Duaa of finishing reading the Holy Quran,

It also provides you with the possibility to Jump to page number or visit bookmarks, or share on social networks such as twitter and others.

It allows you to find the interpretation of verses you read from the left of the screen, or by changing the device to landscape mode so screen automatically divided between verses of the Quran and the simple interpretation.

Enjoy reading the Quran using our new application and do not forget rating.

Note: app interface is available in Arabic & English.

Content in Arabic ONLY.

To enjoy all app content you need to buy in app purchase.
Medina interpreted Quran - مصحف المدينة المفسر 2.3 Update
Language Enhancement
More
More Information
Language:

Arabic

English

More