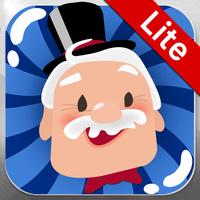 Memory Billionaire Lite
Free Get
Memory Billionaire Lite Description
Combining the clinical treatment methods of a professional occupational therapist and turning them into portable and fun games, it allows the brain to exercise every day, which helps the brain maintain its capacity and prevent dementia. Dementia, following cancer, is the next major disease of the century.

When there are early symptoms, in addition to early treatment, daily maintenance is very important. More and more people not only want to maintain their youth through physical capacity and appearances, but also want to make sure that their brain can remain fresh, so that they can dispel the fear of suffering from dementia in old age.



-- Combination of Games & Professional Medical Treatment --

This is not an APP with an empty slogan!
It requires conventional, professional medical treatment's assistance in order for the supplementary effect to work properly.
We employed a professional occupational therapist together with professional clinical experience from medical care to assist with the APP's development.
You can use it as a supplement at home, to prevent old age dementia and to provide maintenance.



-- Features --

Memory Billionaire Lite version.

◆ AD8 Extremely early stage dementia screening checklist.

This checklist can offer a speedy evaluation of the risks of potential for dementia, from the signs of early-stage dementia


◆ Logic Capacity Training


-Trains logical judgment ability

-Trains visual connection and thinking ability

-Stimulates visual comparison and increases reaction ability



This APP's main purpose is not only to offer a supplementary treatment for users with dementia to ease their symptoms, but it is also designed in response to the trend of the dementia onset age becoming younger. Everyone can spend 10 minutes per session to stimulate the brain with these training exercises to prevent dementia.

Download it now!
Give your brain a workout and stay young.
Memory Billionaire Lite 1.0.3 Update