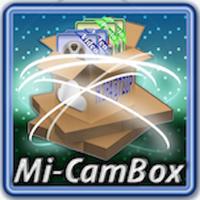 Mi-CamBox
Free Get
Mi-CamBox Description
Mi-CamBox is a viewer and controller that enables you to remotely monitor live video, tune live audio, and may other functions from dedicated WIFI Camera by ELANsat Technologies Inc.
ELANsat WIFI Camera is not only a Wireless Camera, but a WIFI Hotspot Camera. This great feature enables Mi-CamBox to connect to camera only having to select WIFI Hotspot from your device's WIFI Setting Panel. No additional IP or Port setting is needed.
Mi-CamBox does not use cellusolution is suitable for many applications like Toys Camera, Industrial Monitor, Baby Monitor, Home Security, Video door bell and so on.
Mi-CamBox Features:
Mi-CamBox features WIFI network, no cellular network.
Mi-CamBox features excellent high performance and good quality, that plays live HD resolution stream at 15 FPS to bring better user experience.
Mi-CamBox supports quality audio streaming from camera
mic, and Push Talk function to send live voice to camera speaker for playing.
Mi-CamBox supports taking snapshots into device's Album.
Mi-CamBox supports current WIFI Hotspot reachability and auto detecting.
Mi-CamBox supports Camera volume remote control.
Mi-CamBox support Dropbox.
Many more coming soon.