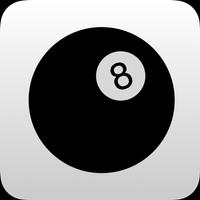 Mighty 8 Ball
Not Available
Removed
from the App Store
Mighty 8 Ball Description
It's the first version with simple features. However, exciting things are coming next please don't underestimate the power of randomness, the state of lacking a pattern or principle of an organisation; unpredictability, and chaos.
Let's also think about Jung's definition sub-personalities, how much percentage of my consciousness is fully inclined to do what I planned to do. It's always dictatorship of the oppressed thoughts therefore It's tough to try new experiences.

+New features will be all about sending unknown challenges, aiming you to make uncomfortable as much as it can.

The message is apparent;
SALVATION STARTS WITH KILLING YOUR COMFORT ZONE!
Mighty 8 Ball 0.2 Update
"All those signs, I knew what they meant
Some things you can invent
And some get made, and some get sent
Ooh ooh"
Speed of sound Coldplay
Ordinary life without searching any signs would be devastating for some people.
Signs, which gives us a purpose!
More