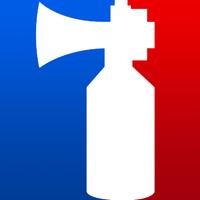 MLG Soundboard Dank Edition
Free Get
Screenshots for iPhone
More Screenshots for iPad
MLG Soundboard Dank Edition Description
Welcome to MLG Soundboard Dank Edition! We have so many new features in this version.

•2500+ of the Dankest Memes!
There isn't a single good one we missed! Wait... we did? No worries, you can request your own memes now!

•Request your own memes!
With our new community feature, you can now request your meme and have it added to our vast library! No more of the same dozen stale memes and waiting forever for updates. Potential for HUNDREDS of memes while keeping the app lightweight. Powerful like a boxer.

•Challenge Friends in Leaderboards!
We are now Game Center enabled! Beat your friends in MLG Sounds' new multiplayer leaderboards! I'm looking forward to seeing you because I have no friends.

•Earn Achievements!
We've added 8 achievements based on dank meme score! Will you become Supreme Dank Meme Overlord of the Universe? Or are you content with making it rain with just a few dozen memes?

•Type your own custom text-to-speech!
It wouldn't be a dank meme soundboard without a text-to-speech synthesizer! Don't let your memes be dreams!

•Push Notification Support
Be notified when your dank memes are updated. This is optional, though.

•iPhone X and iPad Support
We support the newest devices and latest iOS versions.

•Language Support
We accept requests in the following languages:
-English
-German
-Danish
-Italian
-Russian
-Chinese
-Dutch
-Finnish
-French
-Greek
-Indonesian
-Japanese
-Korean
-Malay
-Norwegian
-Portuguese
-Spanish
-Swedish
-Thai
-Turkish
-Vietnamese

---------------------------------------------------------

Did we take it too far? Isn't a meme soundboard supposed to be simple? Don't worry, it still is. We designed it in the format you've come to expect with new features. We thank you for helping us strive to have the ultimate experience for dank memes on the app store.
MLG Soundboard Dank Edition 1.0.7 Update
•New Scoring System
We've added a cumulative scoring system to track all your points instead of just your best score! We've also internally reworked the way the score is saved and uploaded so you can view your best score, cumulative score, and session score right from the side menu. These scores are stored locally, so if you are not signed into game center, they will be saved and submitted when you log in.
•New Server Switcher
We've redone all our server switcher logic, now there is no need to restart the app when switching servers! Switching a server should only take a few seconds, so request all the juicy memes you want! The potential is unlimited.
•Removed Empty Servers
These servers aren't gone forever! They were just a bunch of empty servers, so they will be re-indexed once they become relevant.
•Removed Rewarded Videos
We found that this was slowing down the pace of the experience and weren't used much at all. It was also fat-fingered sometimes without checking with the user if they wanted to proceed with the video or not. While we planned to update this feature to check first with the user, we decided it would be better to remove it and focus on new features instead.
•New Side Menu and Extras Section
We've created a new side menu to quickly see your scores, check leaderboards and achievements, and access your settings. We've moved Settings from the tab bar and into the side menu, while decluttering this page for relevancy. We've also added a new Extras section for features to come to make this app a powerful companion that can do a wide range of tasks. We have many user requests, and we needed to free up a section of the UI for future updates.
•User Interface Adjustments
We've rearranged some elements of the UI for easier access.
-New Side Menu
-Moved Settings from Tab Bar to Side Menu
-Added Extras section to Tab Bar
•New Frequently Asked Questions Menu
We've updated this section for legibility and to include more information on how to use the app.
That's all for this update!
More
More Information
Language:

Chinese

Danish

Dutch

English

Finnish

French

German

Greek

Indonesian

Italian

Japanese

Korean

Malay

Norwegian Bokmål

Portuguese

Russian

Spanish

Swedish

Thai

Turkish

Vietnamese

More