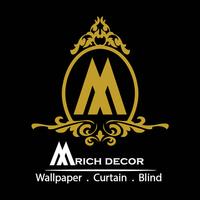 MRich Decor
Free Get
MRich Decor Description
MRICH DECOR is a Malaysia based company involved in the home decoration where we offer soft furnishing (wallpaper, curtain, blind, motorized system) to satisfy customers.

MRICH DECOR is driven by our mission to give our commitment to our customer satisfaction is the most important aspect of our business.

By forming a well- trained and experienced marketing team. MRICH DECOR has been able to stay ahead of its markets with excellent design and value pricing through our vision where we pledge to give service, quality and satisfaction.

We prize the value of stewardship, client value creation, teamwork and passion to give the best for the customer.

We have been delivering our level best services ever since the establishment of our company in formed in 2013, MRICH DECOR is a leading, multi-disciplinary home decoration company.

This company was founded by two experienced person and formed a various ideas for home decoration.

The company offer multi home decor services including vinyl flooring, curtain, blind and wallpaper.

Our company is award winner for the Malaysia top Business Excellence Award and Asia Honesty Enterprise Award.