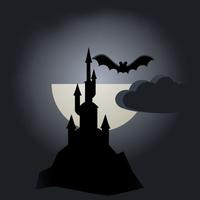 Mysterious Halloween Stickers
$0.99
Mysterious Halloween Stickers Description
Get your new Halloween Stickers and text to your friends!

It's one of America's favorite holidays, but what's the real story behind the tricks and treats of Halloween?

Halloween is an annual holiday, celebrated each year on October 31, that has roots in age-old European traditions. It originated with the ancient Celtic festival of Samhain, when people would light bonfires and wear costumes to ward off ghosts. In the eighth century, Pope Gregory III designated November 1 as a time to honor all saints; soon, All Saints Day incorporated some of the traditions of Samhain. The evening before was known as All Hallows Eve, and later Halloween. Over time, Halloween evolved into a day of activities like trick-or-treating and carving jack-o-lanterns. Around the world, as days grow shorter and nights get colder, people continue to usher in the season with gatherings, costumes and sweet treats.

Trick-or-treating is a Halloween custom for children in many countries. Children in costumes travel from house-to-house, asking for treats with the phrase "Trick or treat". The "treat" is usually some form of candy, although, in some cultures, money is used instead. The "trick" is a usually idle threat to perform mischief on the homeowners or their property if no treat is given. Trick-or-treating usually occurs on the evening of October 31. Some homeowners signal that they are willing to hand out treats by putting up Halloween decorations outside their doors; others simply leave treats available on their porches for the children to take freely.

All Souls Day was celebrated similarly to Samhain, with big bonfires, parades, and dressing up in costumes as saints, angels and devils. The All Saints Day celebration was also called All-hallows or All-hallowmas (from Middle English Alholowmesse meaning All Saints' Day) and the night before it, the traditional night of Samhain in the Celtic religion, began to be called All-Hallows Eve and, eventually, Halloween.

Thus, a new American tradition was born, and it has continued to grow. Today, Americans spend an estimated $6 billion annually on Halloween, making it the country's second largest commercial holiday after Christmas.
Mysterious Halloween Stickers 1.0 Update