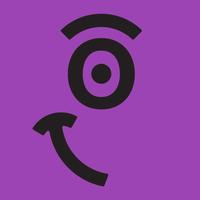 NoahFace Smile
Free Get
Screenshots for iPhone
More Screenshots for iPad
NoahFace Smile Description
NoahFace Smile runs on a customer facing iPad at your point of sale or reception to simultaneously provide:
- A display for welcome messages, promotional material (eg: specials), and smile provoking content.
- An IP Web Camera facility compatible with NoahFace Cafe for customer recognition purposes.
While NoahFace Smile was designed to be used in conjunction with NoahFace Cafe, it can also be used completely stand-alone or with any other web camera client.

CUSTOMER DISPLAY
NoahFace smile turns your customer facing iPad into a promotional display, which has two modes of operation:

While NoahFace Smile is in "Idle Mode" (ie: there are no customers present), the content displayed is sourced from a local photo album, much like a digital photo frame. For example, you may like to display your logo along with a welcome message (eg: "Welcome to the Paradise Cafe"), an "Order Here" sign, motivational quotes, or humorous content. The engaging display will encourage comments and playful banter - helping to make your business a fun environment that people want to visit.

As customers approach, NoahFace Smile automatically switches to "Customer Mode", and displays content based on the time of day. This allows you to display breakfast specials, lunch specials, your afternoon coffee happy hour, end of day run-outs, etc, and drive incremental sales for your business.

WEB CAMERA
NoahFace Smile turns your customer facing iPad into an IP Web Camera.

The NoahFace Smile Web Camera has been designed with simplicity of setup in mind - as soon as you start NoahFace Smile, the camera starts automatically. From the settings page, you can tune the brightness, image quality, and zoom, but the default settings will be appropriate for most environments. To access the video feed from NoahFace Cafe just press the 'Discover' button under Settings/Camera, and select the NoahFace Smile camera. To use it from any other MJPEG compatible Web Camera viewer, just access the /video URL.

You'll be recognising your smiling customers in minutes.
NoahFace Smile 1.3 Update
NoahFace Smile version 1.3 has a purple icon to differentiate it from the other NoahFace Apps.
More