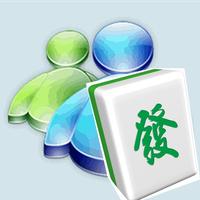 P2P Majhong
Free Get
P2P Majhong Description
Are you worried about your more and more 3G fee now? Try this Majhong with wireless connection. It's awesome and free. You can have more funny and leisure time.
Turn on your WIFI, you can share your playing majhong with other users of smart phone and PAD such as iPhone, iPad. You need not go to internet.
Now get out your smart phones and PADs, you can watch live playing by your friend or family. Share happy time with them.
1. Use your iPhone, iPad, download and install this app.
2. Login your WIFI and you need not go to internet.
3. Play majhong and others can watch your live playing too.

P2P Majhong, which has beautiful game interface, cool operation of playing cards, intelligently selecting cards, profound animation and game sound effects, is more stable and smooth than ever. You can also share your live playing with others via WIFI, which is the special game for your family or friends.
Majhong, a traditional classic game, obeys a simple rule and enjoys both kids and adults.
1. The rich game performance: limitedless pretty pictures, profound game sound effects and animation. Aim to create luxary gaming experience.
2. Smart AI of playing cards: powerful automatical intelligence helps you to enjoy the Majhong.
3. Cool manipulation of playing cards: displaying card as big as possible, help users to select card quickly, give instruction more smoothly and rapidly.


Open the app, you can select new game, play game or read user manual.
1) In the main menu, click the second image button to go on playing game. All scores are kept and the game is started.
1.1 When it's your turn, you'd click the poke in the under screen and just move, then the poke will be enlarged or moved up, which means having been selected. Remove your finger, the poke will be send out automatically.
1.2 Click the red exit icon in the up-left corner of the screen, then move and remove your finger, this app will pause and exit to the main menu.
1.3 After someone wins, you could click the min icon in the up-right of the screen, then move and remove your finger, the score will be shown clearly without cards in the screen.
2) In the main menu, click the first image button to play a new game. All scores are reset and the game is restarted.
3) In the main menu, click the forth image button to read user manual. Show Chinese version of user manual in Chinese system setting, while English version in English system setting.
4) Welcome to take part in QQ group: 167550821, in order to make friends and get more funies.
-----------------------------------
Q&A of usage
-----------------------------------
1. Why can't I watch others's playing
1) make sure you login in WIFI after entering user name and password.
You can try to go to internet and see what happens. Remember you play this game without going to internet or any fee.
2) check the other has begun to play majhong.
2. Many users more than 3 want to join in, is it supported?
Of course. One plays, unlimited number of users can watch lively.
3. Can I use smart phone and PAD to join in?
Of course, you need download "P2P majhong" in internet.
All users of smart phone and PAD such as iphone, ipad, are accepted.
P2P Majhong 1.8.3 Update
1.add share to weixin
More
More Information
Language:

Chinese

English

More