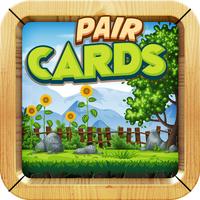 Pair Cards
Free Get
Pair Cards Description
Italiano
Il gioco del Pair Cards, noto anche come coppie, è un popolare gioco di carte che richiede concentrazione e memoria. Nel gioco, le carte sono inizialmente mescolate e disposte coperte sul tavolo. Il giocatore scopre due carte; se queste formano una "coppia", vengono rimosse dal tavolo di gioco, ed il giocatore potrà scoprirne altre due. Altrimenti, vengono nuovamente coperte e rimesse nella loro posizione originale sul tavolo. Il gioco "Pair Cards" presenta ben 30 carte di animali, dalle quali il giocatore deve individuare 15 coppie. Il gioco termina quando il giocatore riesce a scoprire tutte le 15 coppie di animali.
Questa versione del gioco permette di condividere il rate sul leaderboard del game center, in modo tale da conoscere la classifica dei giocatori che risolvo a scoprire tutte le coppie nel minor numero di tentativi.

English

The game Pair Cards is a popular card game that requires concentration and memory. In the game, the cards are initially mixed and arranged on the table. The player discovers two cards; If they form a "couple", they are removed from the game table, and the player will be able to find two more. Otherwise, they are again covered and placed in their original position on the table. The game "Pair Cards" features 30 animal cards, from which the player must find 15 pairs. The game ends when the player finds out all 15 pairs of animals.
This version of the Pair Cards game allows you to share the rate on the game center's leaderboard so that you know the ranking of the players that will help you find all the pairs in the least number of attempts.
More Information
Language:

Arabic

Catalan

Chinese

Czech

Danish

Dutch

English

Finnish

French

German

Greek

Hebrew

Hungarian

Indonesian

Italian

Japanese

Korean

Malay

Norwegian Bokmål

Polish

Portuguese

Romanian

Russian

Slovak

Spanish

Swedish

Thai

Turkish

Ukrainian

Vietnamese

More