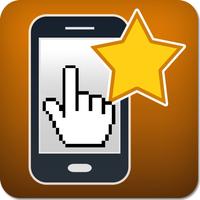 Phonemarking
Free Get
Phonemarking Description
We have changed the name of our application to Phonemarking in order to provide you with better services. We would greatly appreciate your continued support.

Phonemarking is the smartphone application enabling people to easily take information from online and offline media such as printed materials, internet website including mobile web, digital signage, etc. by scanning a VOICEYE code placed on the media, and to simply share the information to others.
VOICEYE code is a high density 2-dimensional code with the world's largest storage capacity of up to 12kb of data such as text, URL, contact information, midi file, leaflet information, etc. by 1,200dpi and 1.8 square centimeters

[Main Features]
① Scan a VOICEYE code. The VOICEYE code can store various types of content as follow:
- Name : Managing contacts will become simpler since 100% accurate contact information will be save at your smartphone by simply scanning the code, differing from OCR technology which always has some inconvenient error rate.

- Scheduler: You don't have to take a wedding invitation card with you. In order to check the event information just look into your smart phone calendar, as such information, including location and how to get there, will be automatically saved there by simply scanning the code.

-MIDI Player: You can apply this code, encoded music (midi), to invitation and wedding invitation cards and letters so that you can express your own individuality. In addition, you can listen to the sound (accompaniment) at anytime and anywhere through Phonemarking app.

-Text : It is specially designed to easily write and manage memos and PR phrases of the printed materials. You can open and read them at anytime and anywhere.

-URL : Scan it and it takes you to a website.

-HTML : It's also available to encode HTML format and it's applicable to program information of seminars, exhibitions, concerts, etc. in order to effectively provide people with that information.

-Leaflet : It's a multi service that provides customers with information such as telephone number, location, homepage, video clip and so on in one VOICEYE code. Customers can simply select and take information for their needs by scanning the VOICEYE code placed on the advertisement of flyers, magazines, newspapers and digital signage.

② Create a VOICEYE code
-You can create a VOICEYE Code containing text or URL address.

③ Share history and contact
-You can easily share history contents and contacts with other people.

④ Manage My Profile
-You can create your own profile, and if you use the sharing feature, you can easily share your profile data with others even if you do not have any business card.

⑤ Scanning QR code
-The following formats are supported: Email, Geo Location, SMS, Phone Number, Text, URL, YouTube

⑥ Translation
-Google translator will translate text contents in the scan history folder into 58 languages.

⑦ 5 High contrast text viewing modes and 10 zoom levels in font size
-The decoded text is available for display in 5 high contrast viewing text modes and font size can be enlarged up to 10 levels.
Phonemarking 2.82.0 Update
- Add search to History
- Add Guide to Scan
More
More Information
Language:

Chinese

Dutch

English

French

German

Japanese

Korean

Spanish

More