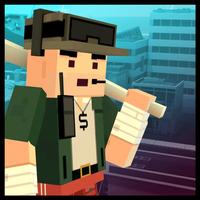 Pixel Cube Town 3d
Not Available
Removed
from the App Store
Screenshots for iPhone
More Screenshots for iPad
Pixel Cube Town 3d Description
Welcome to the Cube Pixel Wars story! Perform exciting missions, race the coolest cars and dominate your enemies with badass guns. Get money, buy or take guns or cars, make friends! Do whatever you want to be effective for fight and save island from danger.
Pleasant stylized graphics, huge, diverse playground – do what you want!

Game features
First person shooter and races
Various guns armory and other stuff, including first aid kit and body armor, that helps keep you alive: wait with sniper rifle and the rooftop or go through walls with minigun. Big variety of cars from usual to sport ones; and boats from simple for take a picture of the view of the island to fastest racing examples.

Gameplay and optimization
Amazing single person gameplay! Full immersion into interesting game process with big opportunities, classy comfort controls and interface that looks like you know it for a very long time.

Big world with beautiful graphics
Nice and pleasant concept of graphics and design! Perfect open world – diverse playground stylized to voxel, pixel and low polygonal style. Discover everything!


Fascinating story line with different missions, it's impossible to put them down. Interesting characters in this pixel city, you'll remember individual charm of every one of them. You'll remember these heroes.
Game story; you find yourself in the pixel world, world of peace and prosper. You are playing for regular pixel, who performs his usual tasks every day.
But in one moment something strange happened with the nearby city. Pixel leaders are keeping their mouths shut, riots starting in that city. Big ships are blocking island, airport stopped take planes. City is suffering from marauding and gangs has begun to emerge, someone needs to shut them down.
The day before apocalypse began, your old friend Tommy came to you, he has house in the district without gangs and riots. City is captured by the gangs. This city needs a new hero. You've found way to resist evil. And begin to clean your street, block, city and then the whole island from the rust.
It depends how and who you going to kick out from island. It's your turn to decide. To the adventure!

P.S. Thank you, dear users, for your comments and propositions. That's very important for us! We're doing our best to give you pleasure and enjoyment.
Pixel Cube Town 3d 1.03 Update