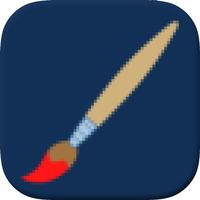 Pixl Art - Draw in Pixels, Bits & Grids
Free Get
Pixl Art - Draw in Pixels, Bits & Grids Description
Reveal Your Pixels!!
... With Pixel Art you can draw either your childhood character or something you saw in your dream.

Pixel Draw is the best drawing app that allows you to paint with pixel grid! Pixel draw has minimalistic interface no complexity, no hassle just open the app and start drawing.
Explore your imagination by crafting amazing pics that comes to your mind and share with your friends! We have special attention on your feedback. Thanks a lot for your reviews.

Features:

•Draw a pixel art of 8x8〜128x128 pixel size.
(I recommend 16x16 or 32x32 pixel size.)
•Change Color pallet
•Zoom the picture to draw.
•Load and save drawing data.
•Enlarge the image up to 2048x2048.
•Save your picture to Camera Roll.
•Share the picture
•Load your photo from Camera Roll.