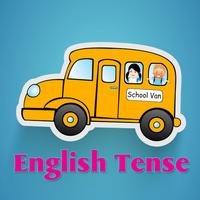 Practice English Grammar : Tenses
Not Available
Removed
from the App Store
Practice English Grammar : Tenses Description
Do you know about the verb tenses? What's the difference between the present perfect and the past simple? Are you sure? How about the past perfect?

Many students have problems with verb tenses. But they aren't really very difficult, I promise. Here you'll find really clear examples and explanations, so you can easily review all the English tenses

Verb tenses are tools that English speakers use to express time in their language. You may find that many English tenses do not have direct translations in your language. That is not a problem. By studying this verb tense tutorial, you will learn to think like a native English speaker. If you prefer to use the verb tense pages as a reference only and do not want to complete the tutorial

Practical English Grammar & Tenses!. This guide will help you in the topics of:
- Present Tenses
- Past Tenses
- Future Tenses

Feature of practice english grammar : Tenses

• study the English Tenses and other grammar subjects,
• test your knowledge,
• have fun while learning.
Practice English Grammar : Tenses 1.0 Update