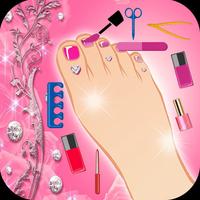 Princess Foot spa for girls - Pedicure
Free Get
Princess Foot spa for girls - Pedicure Description
Foot spa salon game lets you play all types of foot care treatments, pedicure, massages and much more so you could be prepared before winter hits nd holiday season start. Christmas is just few days ahead. Are you prepared for Christmas parties, are ready to look beautiful. Feet's are the most imp feature of one's personality if your feet are not taken care of winter and these Christmas parties will hurt you bad. All kind of nail treatments, pedicures, manicures, face makeup, celebrity makeovers and stylish hairstyles Hollywood makeup everything is waiting for you in our foot spa manicure and pedicure salon.

So look pretty stay healthy and get your feet treatment from Ice princess foot spa salon.

Going to the nail salon is exciting and Princess Pedicure Salon brings all the fun to you with this clever game. You can apply polish, do nail painting and more without having to worry about the smell of stinky feet! Before you get started, you must care of the feet. Once this is done, you are free to decorate as you please. The best part is that you get to admire your awesome work once you are done applying the nail designs and colors that you prefer!

Little girls like to play around and they often get their hands and feet dirty. We already have supplied you with one of the best nail art salon for hands. Now it's the time to cleanse your feet and make them look beautiful.
Become a foot spa and pedicure expert, get the little princess a royal treatment for her big day. Help her clean and style her feet in your foot spa. Then apply Nail polishes, colors, patterns and gems to make beautiful nail art, to make her feet look beautiful in shoes.

This is a Princess Pedicure Salon game. Pedicure and manicure is always loved by the girls. This is beauty spa and toe nail salon game. Make the princess feel special and paint the toe nails using different nail polish colors.

Welcome to fingernail pedicure salon, the ultimate girls nail salon game in which you can do the nail art dress up in so many styles and give make up beauty treatments to nails in your own virtual nail beauty parlor. You can make as many nail art designs as you want.
Princess Foot spa for girls - Pedicure 1.0 Update