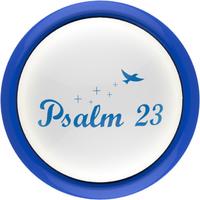 Psalm 23 Button
Free Get
Psalm 23 Button Description
Find Solace in the Word of the Lord! Whether you've been a believer your whole life or you're new to the Christian faith, you know that no one is immune to the ups and downs of life. Fights with friends, unexpected accidents, and stress at work all take their toll. Thankfully, we have the Word of the Lord to keep us focused, comforted, and faithful! The Psalms 23 Button App reads aloud all six verses of this popular passage. Each button features two recordings – one male voice and one female. Listening to them daily will help you memorize the verses, which in turn will transform your mind! You can use it as a daily devotional to start your day off right, or keep it nearby at work for whenever you're in need of that extra boost of encouragement. Similarly, anyone facing tough times will appreciate receiving this thoughtful button. Not only can you show them your support, but they'll also feel motivated by the love of God. We take pride in our products and went the extra mile to ensure that this religious toy was built to last! With a durable, compact design and high quality audio clips, it's a fun, inspirational button everyone will love.
Psalm 23 Button 1.2 Update
Update and fix to start up screen code.
More