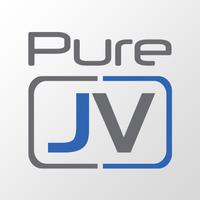 Pure JV
Free Get
Pure JV Description
Take all of your Pure JV training content with you and access it anywhere, even when you're offline.

You can also access all of the FREE video training we offer, via this app in audio or video format as well as other business and productivity related content from Byrd Word, LLC at your convenience.

Whether you're looking to access your existing training, get access to Zero-to-60, or explore the other included free content, you'll find everything here just a thumbprint or Face ID away.

Download the Pure JV app to:

• Access all your Pure JV account & training content from PureJV

• Login to your Pure JV account and securely access private messages and account information

• Watch account audios & videos, access free training and more, all while on the go

• Stream audios or videos to your Bluetooth headsets, Airpods, Bluetooth enabled speakers, Bluetooth car stereo and more

• Use our intelligent dual purpose video player to switch between audio and video streams, seamlessly

• View course content offline after visiting the course once while connected

• Pick up where you left off - your course progress within the app automatically remembers where you left off, so you can easily resume later

• In a hurry? Speed up the playback of audio or video content all the way to 2x so you can listen and consume it faster

• Access timely updates with notifications from Byrd Word, LLC

• Easily jump from lesson to lesson, by module, or between any available courses and track your progress within each course

• Get periodic updates from Byrd Word, LLC about what's new and exciting with business and productivity with in-app notifications

Using the Pure JV app is completely free.
Pure JV 1.3 Update
- Added new Image Component
- Added CRM-based push notification support
- Added CRM-based dynamic refresh support
- Added new audio and video player design
- Updated backend resource architecture
- Improved design around Article Scaling feature
- Added message to My Message & offline course empty screens
- Fixed bug with automated release updates
- Fixed bug with login security error
- Fixed bug with article buttons showing when they shouldn't
- Added message to My Message & offline course empty screens
- Fixed bug where new videos were being released into app prior to encoding completion
- Fixed various multi-language related bugs
- Audio player bug that was showing a play button when it should have shown a pause button has been fixed
- Fixed bug that was causing push messages to not open fully under certain scenarios
- Added crash analytic tracking
- Fixed audio player issues on lock screen
- Cosmetic bug fixes for offline playback
More