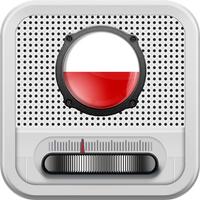 Radio Polska - Live !
Free Get
Radio Polska - Live ! Description
Radio Polska is one of the best streaming-radio apps available through the Apple Store. And here are the reasons:

***** A simple, intuitive and customizable interface:
A user-friendly interface which allows you to get to the essentials quickly: enjoy listening radio. This simple, yet powerful, interface is also customizable! We give users the opportunity to choose the display mode (list or grid) and the colour of the theme. And in the favourites menu, you can also change the order of the stations or hide some stations.

***** A rigorous and varied selection of radio stations:
A selection of radio stations (FM, AM and online) based on the latest available official figures of audiences.
Under this selection, special attention is paid to ensure that all radio formats and broadcasts are offered. There is something for every taste: News, talk, sports, culture... and of course Music (Pop, rock, jazz, country, latino, hip-hop, soul, R&B, classical ...)

***** An exceptional and unbelievable reliability:
Our radio player / tuner is extremely reliable. In addition to running in the background allowing you to do other thing with your phone, this player is also able to operate for very long periods without interruptions or loss of quality. Indeed, eliminating drops and bugs is one of our top priorities.

***** Totally free:
Our app is totally free. All radio stations and all functionalities are available without restrictions!

***** A very requested function:
Our app has a sleep timer function that allows your radio to shut off automatically after a selected number of minutes.


The available radio stations:

- RMF FM
- Radio ZET
- Radio Kolor
- Radio Maryja
- TOK FM
- RMF Classic
- Antyradio
- Radio Muzo.fm
- Jedynka - Program 1 PR
- Dwojka - Program 2 PR
- Trojka - Program 3 PR
- Czworka
- Radio Pogoda
- ZET CHILI
- Meloradio
- Radio Parada
- Radio RAM
- Radio Lodz
- ZET Gold (Wroclaw)
- Rock Radio
- RMF MAXXX
- Radio Gra Torun
- Radio Zlote Przeboje
- Polskie Radio Rytm
- Radio Krakow
- Radio Katowice
- Radio Gdansk
- Radio Wroclaw
- Radio Warszawa
- Radio Bialystok
- Radio Rzeszow
- Radio Kielce
- Radio Lublin
- Polskie Radio 24
- RDC
- Radio Piekary
- Radio Kampus
- Radio Szczecin
- Radio Freee
- Rekord FM
- Radio Fama
- Radio eM
- Radio Jura
- Radio Jard
- Radio VIA
- Radio Kaszebe
- Radio Centrum
- Radio PiK
- Radio Silesia
- Radio Vanessa
- Radio 5


If you have any questions or feedback, please do not hesitate to contact our team at any time: harmony.radio.apps@gmail.com

A network connection is required in order to access content.
More Information
Language:

Arabic

Catalan

Chinese

Czech

Danish

Dutch

English

Finnish

French

German

Greek

Hebrew

Hungarian

Indonesian

Italian

Japanese

Korean

Malay

Norwegian Bokmål

Polish

Portuguese

Romanian

Russian

Slovak

Spanish

Swedish

Thai

Turkish

Vietnamese

More