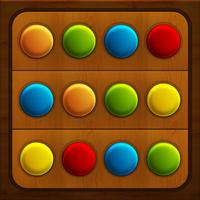 Real Code Breaker Mastermind
Free Get
Screenshots for iPhone
More Screenshots for iPad
Real Code Breaker Mastermind Description
Mastermind is a mind game that puts you in the position of a master code breaker: a secret code is given, and you must figure it out using guesses and the hints provided on the puzzle.


Real Code Breaker is based on the classic board game that is also known as Mastermind, Master Mind, Code Puzzle game and Bulls & Cows.


Features:
- BOARDS: 480 free puzzles. All boards are free!
- DIFFICULTIES: 3 difficulties: Easy, Medium and Hard. The harder the bigger the secret code is - extra challenge!
- MODES: on medium you will face repeated colors, while on hard you will face both repeated colors and empty pins.
- AUTO-SAVE: match is always automatically saved so you can continue later your master mind match.
- SIMPLE: easy and intuitive interface.


How to Play:


On each round you have to make a guess using colored pegs to try to solve the secret code, and you will get hints based on how well your guess was. For each pin that was an exact match you will get a Black hint pin. For each color that you got the color right, but is on the wrong position, you get a White hint pin.


By analyzing and comparing past rounds you will improve your code breaking guess continually until you figure out the full secret code.


Enjoy another brain puzzle from the makers of the Real Jigsaw hit and several other brain challenging games such as Real Einstein's Riddle, Real Nonogram and Gridbreaker. Real Mastermind was freshly released on April, 2015.


If you have any questions or suggestions, please contact us at mastermind.ios@rottzgames.com .