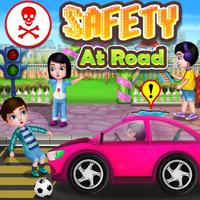 Road Safety Rules
$0.99
Screenshots for iPhone
More Screenshots for iPad
Road Safety Rules Description
We need to protect children while using road and give them knowledge of road safety that will help them life long. Safety messages for adults too. The app helps parents and carers teach children how to keep safe when out on the road, in a fun and memorable way! If you really care about the safety of your child, We should be looking at how our kids doing things and teach them do things right for the sake of our kids' safety.

It's never too early to teach your children to be street smart. It takes a little to make them understand the life safety rules.

Rules for Road safety :
* You should never cross the road in hasty manner
* Be vigilance before crossing the road
* keep watching both directions while crossing the road
* Learn about various traffic signals. Red, green, blue, and pedestrian lights
* Understand significance of zebra crossings, use it appropriately
* It's very dangerous to play on the road, never play near street, road, or parking area
* Never run on the road behind any vehicle
* Always use pedestrian roads only for walking

Observe the pedestrian lights. Red light says to stop and green man says to go. Cross the road when the green man is on. Whenever you supposed to cross the road with no signal stop, use your eyes and ears, wait till it's safe to cross and then cross the road.

Singing, listening to music, walking carelessly on road, reading the book while walking, using mobile phones while walking on the road brings you in trouble.

Key Features:
* Unique scenes with fun interactions
* Teach children basic rules of child safety
* Kids friendly learning game play
* Bright and beautiful animations and illustrations
* Understand self protection techniques
* Everything is FREE inside game. No hidden purchases.

Follow the safety rules and set the example for your classmates and make them learn too!
Have a great safe life ahead for kids and adults as well. Download and use this app and understand the considerable risks associated with road use.
Road Safety Rules 1.1 Update
Updated the animations and added particles for the better user experience
More