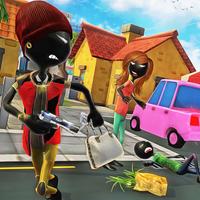 Shadow Crime City
Not Available
Removed
from the App Store
Screenshots for iPhone
More Screenshots for iPad
Shadow Crime City Description
Shadow Crime City tells the story of a young man who is in need of work to live his life and support his family. He goes to meet his cousin who lives in the other city which is also the mainstay​ city in Shadow Crime City. His cousin is a small business owner but behind the scenes is a gangster thug who works for the biggest mafia drug lord of the shadow crime city. You will have to work for the mafia drug lord to kill and fight police guards. You will become a dangerous mafia shadow assassin for the gangster mafia drug lord. Kill your rivals who are challenging your rule on the shadow crime city. Shadow Crime City is where the action is when it comes to mafia drug war, fights where police guards are killed and the assassination of enemy smugglers and thugs. Be the brave gangster thug to fight and kill your enemy gang lords. Stay out of prison by fighting the police and kill the police guards. This City is full of Shadow Gangsters who are out there to kill you and you have to save yourself you will have to kill the gangsters in the city. Shadow crime city is the ultimate place for police & security guards to fight and arrest mafia drug lord and his thugs and gangsters. Shadow crime city offers a vast variety of THUGS & GANGS

You are looking for a job and you meet your cousin regarding the work he may have. He has introduced you to one of his partners, who under the cover is a mafia drug lord, with many criminals and thugs on his payroll. He moves drug money and kills people for a living. He has made a fortune through drug money, by being a smuggler and a mafia drug lord. This mafia drug lord gives you work, which you don't know is delivering illegal drug money. Not only you deliver the drug money without knowing but also kill innocent people on his orders to keep yourself safe from getting arrested. Police is after all three of you, but you had to kill police guards for your own protection. You have now become a stickman shadow thug for the mafia drug lord. Your cousin is also one of his highest ranking gangster and thug.

Shadow Crime City comes loaded with many features:

- Awesome and realistic 3D city environment with crazy missions
- Combat to fight & kill police guards in all missions.
- The great and intuitive user experience for the real mafia gang drug lord.
- High-quality graphics and animations
- Great fighting against police guards
- Thrilling missions for a mafia gang drug lord like you
- Super fun to play attack and fight like a fighter with police guards
- An excellent game plot, striving for survival and a hero like an outcome
- Fight, Kill, Chase, Run and Escape all in one game
- It's FREE!!